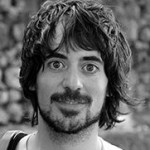 Miguel Hernandez is the Founder and CEO of Grumo Media. Miguel founded Grumo Media in October 2010 after producing a spec video for flight search startup Hipmunk.com which was created while vacationing with the in-laws in Hawaii.
Miguel had previously produced only just one video for his Romanian friends for a news reader digest startup called Summify.
The Hipmunk video was received with much love from Hipmunk's marketing principal, Alexis Ohanian.
In gratitude, Alexis introduced Miguel and his recently discovered animating abilities to several Ycombinator companies.
Miguel received enough video requests to justify creating a legitimate business to keep up with demand, Grumo Media was born.
Miguel is also top Udemy instructor with over 20,000 students.
He has a true passion for online education and has spent the last 5 years creating multiple best selling courses and taught thousands of students across the world in both English and Spanish.
The original Grumo Media website was designed also by Miguel in just a few hours, including the logo which Miguel named Grumo in honor of a deceased family kitty with the same name. (You can learn more about Grumo the kitty [HERE])
Before starting Grumo Media, Miguel had been a jack of all trades for over a decade. His many passions took him from his original love for mechanical engineering, to 3D animator, all the way to music video director, and web application developer. Miguel had always a passion for film, technology, and startups.
Miguel was born in Bilbao, Spain and relocated to Vancouver, Canada in 1996 with most of his family.
The reasons for this gigantic transoceanic move from the land of eternal fiesta to the land of the beaver and maple leaf are still unclear and fuzzy as the JFK murder or Elvis Presley's death.
One day the truth may surface but in the meantime he makes sure he gets a taste of the land of conquistadores at least once a year.
Since very early on, Miguel showed a genuine interest in building and taking things apart. He played with Lego well until his mid twenties, building very unique contraptions to test his own ideas.
Here is a Lego stacker he built while working full time as a Mechanical Designer at Raute: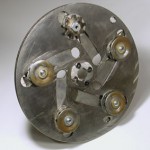 Right after graduating with honors from BCIT and winning the annual mechanical design award, Miguel designed and built a completely non-functional continuous variable transmission for bicycles.
Miguel is me, so I don't know why I am speaking in the third person like Jimmy from Seinfeld.
May be the best way to explain my attitude towards life and continuous love affair with experimentation is best explained by someone without a Spanish accent:
"The supply of time is truly a daily miracle, an affair genuinely astonishing when one examines it. You wake up in the morning, and lo! your purse is magically filled with twenty-four hours of the unmanufactured tissue of the universe of your life! It is yours. It is the most precious of possessions. A highly singular commodity, showered upon you in a manner as singular as the commodity itself!"
by Arnold Bennett (1910)
PS: One day, I'll rewrite this so it actually makes some sense.
PS2: Whenever I feel stressed-out I watch this happy video from Mika:

Life is short and it is only up to us to make it fun and worthwhile to remember. Here is to a world full of happy grumos!
You can follow me on Twitter @grumomigs.
To learn more about my life story and every day experiences please check my personal blog at Grumo.com.
---
Other posts by Miguel:
5 steps that will help you discover your true passion
How to create videos that get you customers – Mixergy Interview
Step by step guide to produce a promo video
How to create an Awesome demo video
How much a typical promo video costs?
What makes a demo video great
How the way you wipe your bum can save the world. Crunchers vs Folders
The Story behind the name Grumo
Get Our Top 10 Video Marketing Tips
Enter your email below to receive the exact strategies we've used to reach over 20,000,000 people with our videos without spending a single dollar in ads