After creating several successful demo videos I have learned great techniques to produce awesome explanatory videos with very little budget.
I have also learned that most startups cannot afford to spend $5k to $10K to have a professional video produced.
This saddens me because every startup can tremendously benefit from having a great demo video explaining what they do.
So to help the startups of the world tell their stories in a unique and fun way I have produced a concise and easy to follow online video tutorial course that will help you learn everything I know to produce great videos like the ones you can see on this website.
(To get a very special discount on this series make sure your register early at the end of this post.)
NOTE: if you already subscribed to the course you can login to it HERE.
Why a great demo video is super important for your company?
A great demo video helps the founders promote their startup and explain their product or services better than any text, images, website could ever do. A great demo video is the best most efficient way to tell your story so anyone can understand and take the time to listen to it.
A great demo video acts on your behalf as an elevator pitch for your company so you don't have to repeat your story over and over to customers and investors. Let the video tell your story so you can concentrate on building a great product.
I have the knowledge and experience to help startups tell their story. I have a passion for startups being one myself so I decided to share my knowledge to help you learn how to create a great demo video yourself.
Whether you are a founder that wants to take that boring screencast video to the next level or a video producer that wants to learn how to produce awesome animated videos for your clients, this video tutorial will ensure you learn everything there is to know to produce the most effective explanatory video possible for the least amount of money.
Everyone is using video to promote their startups, are you?
Well established companies such as Dropbox.com, 99designs.com, InDinero.com and even Woody Allen have completely removed all the clutter from their home pages and replaced it with huge video players showcasing their products and services.
Why are so many startups using video?
Because video works, but only if it is a well written and produced video and that is exactly what I will teach you if you take this super cool course 😉
What will you learn?
The online course is called "How to Create Awesome Demo Videos" and is broken down in several chapters:
Script writing: learn to create simple, compelling, effective scripts in less than 2 hours
Storyboarding: learn to convert your script into a storyboard even if you have no illustration skills whatsoever
Illustration: learn how to use Adobe Illustrator to create simple yet cute illustrations for your animation
Animating: learn to use After Effects to rig and animate your illustrations
Voice over: learn how to record great voice over audio with no budget or where to hire great voice over talent. Watch this Example for free.
Sound FX: learn the best places to find free or very cheap sound effects for your animation and also learn to create your own sounds effects at home.
Editing: learn how to put animation, audio, sound, all together with Final Cut.
Delivering: learn the best ways to compress and deliver your video
Promoting: learn great social media marketing techniques to promote your video and increase your chances of it becoming viral.
Save over 49% off regular price if you register today!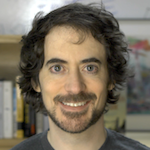 The course is regularly $297 but if you register before January 31, 2018 you'll pay only $150 which is over 49% less!
The course is made up of 81 HD videos (over 10 hours of instruction) and contains all the source files used to do the examples explained.
I am extremely excited to share all my experience, tips and tricks on creating awesome demo videos with you.
This is a very unique opportunity to learn about a very on-demand craft that will help your startup get the attention it deserves!
To get access to the complete course just click the button below.
I am confident you'll love it but if my sexy Spanish accent gets to you just contact me at miguel@grumomedia.com and I'll refund you no questions asked.
TESTIMONIALS
Here is what some people have to say about Grumo's demo videos:
Ashton Kutcher sharing his love on social media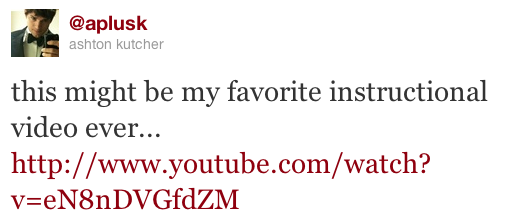 Twitter Love for Grumo videos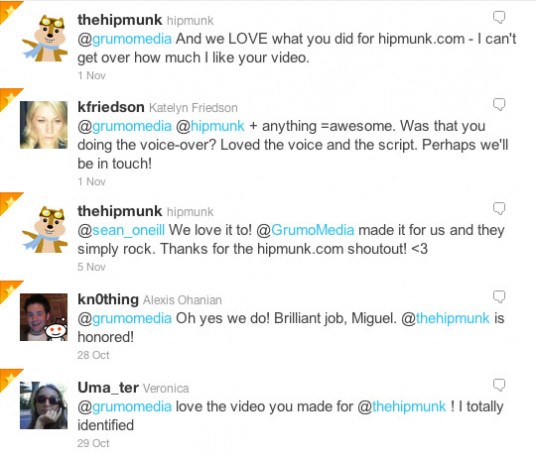 To get access to the complete course just click the button below.
CLICK TO VIEW THE COURSE
(No risk, 100% money back guarantee, anytime, anyhow, anywhere, forever and ever.)
Here are some more testimonials from happy students with links to the videos they created after taking my course:
"The Grumo course gave me the behind the scenes to the production of the video from start to finish. Which demystified all the misconceptions I had, of a huge budget- incredibly talented marketing geniuses needed to create a video such the once I've seen. So I got all the CONFIDENCE I needed to tackle the task, and on top of that all the TOOLS and METHODS necessary to do so with a winning formula" – Fabian Pallares, Collective Change
"I really enjoyed the course and am very proud of the result! So Miguel you rock! Thanks" – Jonathan Surinx, Olumpo
"The course was even more awesome than expected. While I thought the main thing I would get out of it was the technical stuff (and I did) what I REALLY got out of it was how to write a great script and storyboard, and how to add the LOVE. And the best part was that the course was so entertaining! I'm not sure whether you're a better producer, teacher or comedian. Either way, keep up the great work!" – Justin McLeod, Hinge
"I'd recommend your course to anyone! it's good even for back-end developers zero experience design nor animation." – Pablo Albrecht, Belongins
"I wouldn't even have TRIED this without your awesome course. You really inspired me and also made me feel like it was "possible". – Todd Rimes, Handpik
"The most useful help I received from the Grumo course was: How to design a good script (statement of problem, solution, explanation… in the right proportions) with the 7 SUCCESS rules in mind. Really good stuff, and simple to apply. I was most impressed by the need to generate warm, fuzzy feelings and make people laugh. This is key.
The After Effects tutorial was invaluable, I had no clue how to do this kind of animation before, that section of the course had many small tips to get started right away, rather than going through thick books about the software. The high-def videos for the rigging and animation were a good idea because viewed fullscreen, it looks almost like a live screen of the application." – Gabriel Ross, GR Sites
"Miguel's course gave me very concrete technical advice on how to write the script, how to record the voiceover, how to look for talent and how to edit. Lastly, it gave me the confidence to think that I could write a script and create this project." – Seth Price, TurlyTag
You can see the entire list of sample student demo videos HERE.
To get access to the complete course just click the button below:
Please contact me at miguel@grumomedia.com if you have any questions regarding this offer.
Peace, love and cookies 😉