Grumo Media is an interactive media agency that specializes in producing concise and fun explanatory videos.
Here is a Grumo video explaining what Grumo does:
We have a special passion for startups and would love to have the chance to help you spread your story in a unique and engaging way.
Our videos are designed to help your company attract investors, promote your product effectively, and increase your conversion rates.
To ensure our videos are always unique and deliver the maximum awe possible, our team is comprised of some of the best illustrators, motion designers, and composers across the world.
Find out how to get your own demo video produced [HERE].
We are always looking for talented artists so if you are looking for new and exciting opportunities please send us your portfolio [HERE].
To find about the story behind the name Grumo click [HERE].
We are located in beautiful rainy Vancouver, British Columbia, Canada.
Meet Miguel Hernandez, Grumo Media's Founder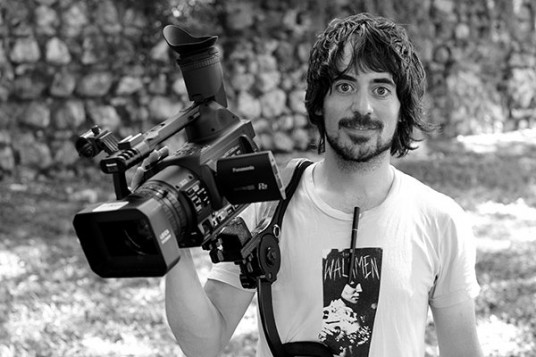 Grumo Media was founded in October 2010 by Spaniard and crazy scientist Miguel Hernandez.
Before starting Grumo Media, Miguel had been a jack of all trades for over a decade. His many passions took him from his original love for mechanical engineering, to 3D animator, all the way to music video director, and web application developer. Miguel had always a passion for film, technology, and startups.
In this interview by Andrew Warner of Mixergy.com, Miguel explains in detail what is the process of creating videos that get you customers.
Miguel is a very fun down-to-earth approachable hombre with a very geeky sense of humor. Here is one example:
Miguel has saved the world in several occasions. Following is a rare piece of footage where Miguel was caught in camera saving the world while talking to his producer.
Trivia: This video was part of a self-promotional ad campaign to boost Miguel odds at online dating back in 2008.
The ads worked like a charm, now Miguel is happily married to one of the campaign's victims ;).
You can follow Miguel on Twitter @grumomigs.
Miguel also has a personal blog where he shares weekly tips and tricks that will help you become a more awesome human at Grumo.com.
---
Related Posts:
Why every website needs a great explanatory video
Step by step guide to produce a promo video
How to create an Awesome demo video
How much a typical promo video costs?
What makes a demo video great
The Story behind the name Grumo
Running an animation studio – Behind the scenes of Grumo Media
Get Our Top 10 Video Marketing Tips
Enter your email below to receive the exact strategies we've used to reach over 20,000,000 people with our videos without spending a single dollar in ads