After one year in business Grumo has gathered over 500 loyal and awesome Facebook fans.
On behalf of the Grumo team I want to thank all of you for having joined the Grumo family, including our dear clients, Grumo students, friends, and every single one of you.
Especial thanks go to my two most loyal fans Lenny Ramirez and Remington McElhaney.
And of course to my mom in Spain who checks this blog every single day although she doesn't speak English! (She uses Google Translate to get the most hilarious translations haha!)
Thanks so much for believing in the power of Grumo and for spreading the love for Grumo across your networks.
Every new fan counts, every new visit to this blog counts, the more the merrier!
Peace, love, and cookies!
Want a Grumo video for your company? Let GRUMO know HERE.
---
Related Posts:
Grumo turns 1 year old!
Running an animation studio - Behind the scenes of Grumo Media
The Story behind the name Grumo
Why every website needs a great explanatory video
Step by step guide to produce a promo video
How to create an Awesome demo video
Get Our Top 10 Video Marketing Tips
Enter your email below to receive the exact strategies we've used to reach over 2,000,000 people with our videos without spending a single dollar in ads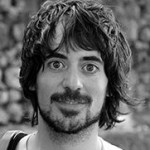 Learn How to Create an Awesome Demo Video The Grumo Way
Whether you are a do-it-yourself type of startup or a beginner wanting to learn how to produce great demo videos, our video training series will be perfect to help you produce outstanding explanatory videos.
Click Here to Learn more about this special offer.