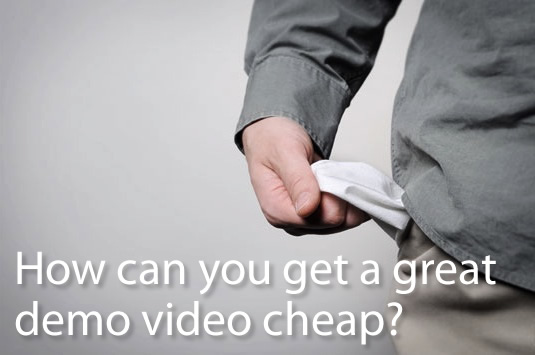 I have been producing short animated demo videos for startups for over 4 years now and have found that about 70% of the startups that approach Grumo simply cannot afford a $5-7K promo video.
That is the nature of the non-funded or the bootstrapped startups, cash is low which forces them to be frugal with marketing efforts.
The reality is that you can perfectly get a great demo video produced for as low as $1K.
Hell, if your product is awesome one of your fans maybe crazy enough to do it for free!.
There are a couple of ways you can get a cheap promo video produced:
1. Get lucky, 2. Get some skills, or 3. Hire a cheap animator
Let's discuss the art of cheap demo video production:
1. Get lucky
A. You are so awesome that a fan creates a demo video for free and you are lucky enough that it is actually great: .
Requirements: Amazing product, lots of fans, 1 fan that can actually write and animate a great demo video.
Sample: Hipmunk Video. Chances 1/1000000.
B. Cheap fresh animation school graduate that happens to be a genius: I'd say 1 out of every 1000 animation graduates is an undiscovered genius. If you snatch him/her before anyone else realizes it you can get an awesome demo video for peanuts and a six pack. Sample: Google Voice video. Chances 1/1000000
2. Get some skills
You can produce it yourself but to get to the level where you can write and animate an awesome demo video would take the average person about 6 months to 1 year with the right training.
There are about 120 working days in 6 months. That is about 960 hours of training.
If your current job pays you $10/hour that would be already close to $10K of your time and no guarantees of success in the end.
If you are qualified professional or freelancer that makes $50/hour you would have to invest at least $50K of your time to get your cheap demo video. Not so cheap anymore, uh?
3. Hire a cheap animator
Let's say you find a cheap animator on eLance or oDesk that can do your video for $1K.
Here is what will happen, most likely… your video will suck unless you are a both a good writer and have lots of cheap time available.
Most cheap animators are cheap for a reason, they have little experience, are slow, need tons of feedback, or/and just simply suck.
Even assuming you wrote a great script that can actually be animated (big assumption here) you will spend the next month or more baby sitting your animator.
Unless you know what makes a demo video awesome you won't really know what feedback to give and even if you do you will have to spend many painful hours on the phone giving or writing revisions.
Again, if your time is worth nothing.. perhaps, you may end up with an awesome demo video. Chances 1/1000.
(A good animator will cost you from $250 to $500 a day and should be able to produce about 1 min of simple animation per week with little supervision. Time estimate is based on the animator having received a clear storyboard and voiceover in advance.)
So what do you do if you have no budget but want an awesome demo video?
This question is similar to: what do you do if you have no money and want a Ferrari?
Well, you know the answer, you either win the lottery or work very hard and save enough money for one.
Producing a great demo video takes time and skill. If you cannot pay for either in cash, you will pay for it some way or another (your time and frustration).
Relying in luck is not a really good strategy but hey, millions play lottery around the world and the the slim odds of winning anything don't seem to deter people.
But don't despair. You always have alternatives. You may not get an awesome video at the end but you can:
Record yourself talking over a nice Powerpoint/Keynote presentation
Putting some text and pictures together using Animoto, SpotMixer, OneTrueMedia. or Vuvox
Recording your website or app using Camtasia or Screenflow
Trying your luck at one of the many video crowdsourcing platforms like: Poptent, Whooshii, Genius Rocket, Tongal, TurnHere, or ReelClever.
Of course, If you manage to save enough money for the Ferrari, or even the BMW you have a long list of studios and freelancers that will be more than happy to take your money and transform it into a great marketing video.
Here is a list of such studios and freelancers:
Good luck and of course remember that here at Grumo Media we would be more than happy to produce an awesome demo video for you too! 😉
And if you have the time, patience, and desire to learn how to produce a great demo video yourself take the awesome Grumo Course HERE.
---
Thanks to
http://startup-videos.com/video-production-services/
for the studio list.
Related Posts:
Why every website needs a great explanatory video
Step by step guide to produce a promo video
How to create an Awesome demo video
How much a typical promo video costs?
What makes a demo video great
The Story behind the name Grumo
Running an animation studio – Behind the scenes of Grumo Media
Get Our Top 10 Video Marketing Tips
Enter your email below to receive the exact strategies we've used to reach over 20,000,000 people with our videos without spending a single dollar in ads