I love when Grumo fans share their work with us. Today Trevor Fitzgerald of CrowdSquared shared a nice little demo video he created after finding some inspiration watching Miguel's interview in Mixergy.
Here is Trevor's promo video:
I asked Trevor to share a little bit about the process of creating this demo video:
How long did it take to put together?
I wrote the first draft of the script in about 20 minutes. I purposely tried to go as fast as I could so it would come across as natural language and not forced. After sleeping on it and sending it to a friend for proofreading, I only made a couple of small changes.

I spent about 1 hour working in GarageBand getting the voiceover and music track. Then I spent about 4 hours finding images and setting up the slides in Keynote. The screen recording only took about 20 minutes with Screenr. Then, merging everything together in iMovie took about an hour.

I was under a self-imposed deadline to finish the site in a limited amount of time. I knew I didn't have much time available for it so I kept things extremely simple and put it together very quickly.

How did you record the voice over?
I used the Miguel Hernandez teepee blanket trick to cut down on the echo. Except I don't have an iPhone so I buried myself under the blanket with my Macbook and Garageband. I ended up taking a few breaks because it started getting really hot toward the end of each take.

What was the hardest part?
The hardest part was the voiceover. My video ended up being about 1m10s long (I tried for under a minute, but oh well). At first, I thought I could break up paragraphs into different tracks and merge them together at the end. But each time I did it, the volume or pitch sounded too different on each one. After a while, I just decided to do the whole thing in 1 take. I would get almost to the end and then stumble on a word, so I had to start over. But in the end, I think that was the better way to do it.

What was the simplest part?
The simplest part was combining the video and audio in iMovie. I just copied over the mp4 that Screenr gives you, dragged in the audio track from garage band, cropped the beginning and ends, and hit Publish.

Where did you get the cute graphics from?
The graphics and cartoon illustrations came from Shutterstock. I looked through quite a few choices before finding some that matched the style I wanted.

Do you have a link to the Hacker News thread?
Here's the thread on HN: http://news.ycombinator.com/item?id=3013292 There have definitely been a lot of compliments on the video–between the thread and email.

Where did you find the music?
The music was bundled in with Garage Band. It's the Accoustic Sunrise loop. I've heard it on a few videos before so I didn't necessarily want to use it. I tried looking for a few good ones on AudioJungle.net but gave up due to time constraints.

How did you find about Grumo?
I was listening to the Mixergy episode where Miguel was a guest. I was absolutely fascinated with everything that went into a product demo video and how effective they can be.

What other places online have helped you learn to put together this demo video?
I had to look up a few Keynote tutorials on how to do some different build effects and manipulate images.

Also, I enjoy watching product videos whenever I come across a new startup that has one. It's always interesting to see the approach they take. After a while, I started to figure out what I like and don't like. I've made a few in the past for other projects and feel like I'm definitely getting better.
Thanks for sharing your video and answering our questions,
Much success with CrowdSquared!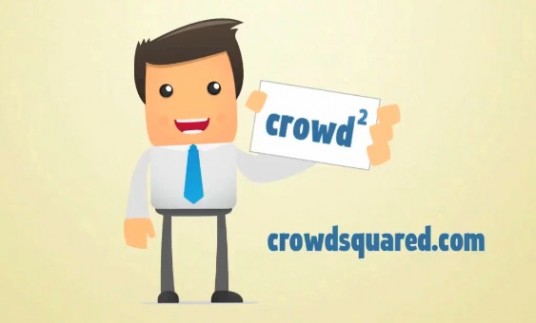 ---
Related:
How to create a great product demo video using Keynote
How to record voiceover with just an iPhone and a blanket.
Great demo video using Keynote by a Grumo Student
Step by step guide to produce a promo video
How to create an awesome demo video
How much a typical promo video costs?
Get Our Top 10 Video Marketing Tips
Enter your email below to receive the exact strategies we've used to reach over 20,000,000 people with our videos without spending a single dollar in ads