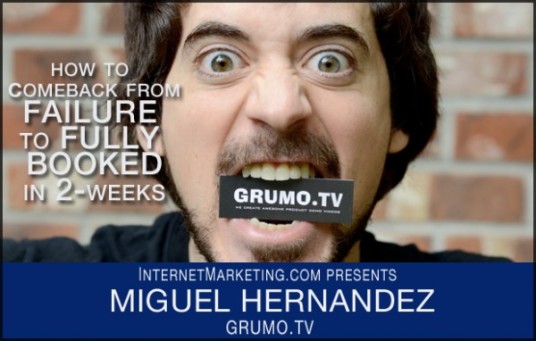 In this candid interview I share the origins of Grumo Media and reveal some of the strategies I employed to validate a business producing animated demo videos.
If you are thinking to start an online business I think you will find a lot of actionable advice on how to get started without wasting too much time and money.
The interview was conducted by Jason Bax of InternetMarketing.com and was originally posted HERE with the title "From Failure to Fully Booked in 2-Weeks With Zero Marketing Budget".
Here is the full interview (the story of Grumo starts at 8:45):
As usual my hair is a mess but don't let that distract you too much from starting your own business.
If I can do it, you can do it too! wohooooo!!
---
Enjoyed it? Here you have 7 more interviews with Miguel Hernandez:
Running an Animation Studio by Grumo Media – Interview by Animation Orbit
Running Grumo Media and Insights on the Demo Video Market
"Life is too short not to take risks" – Audio Interview with Grumo
How Grumo Overcame His Fear of English and Built a Successful Company
How To Create Videos That Get You Customers – Mixergy Interview
Explainer Videos Explained: Interview by The Local Method
Grumo Advice to First Time Entrepreneurs – Interview by Siosism
Get Our Top 10 Video Marketing Tips
Enter your email below to receive the exact strategies we've used to reach over 20,000,000 people with our videos without spending a single dollar in ads