Watch this 1 hour interview to meet and be inspired by Ross Bollinger, the creative genius behind Pencilmation, a playful animated cartoon YouTube video series that has been exploding in popularity to the tune of 1 million views a day.
In this interview you'll learn:
How Ross started animating
What inspired him to start the Pencilmation cartoon series
The production process behind each Pencilmation episode
What tools he uses the most to create animations
How he comes up with ideas for new episodes
The top trick he used to get more views on YouTube
The challenges of scaling his studio to produce more episodes
How much can you make with Youtube advertising
His plans for the future with Pencilmation
And much more!
Would you like to learn how to create similar animations?
At Grumo Media we've employed animation to promote hundreds companies and products in a very engaging way.
We created a very comprehensive 10 hour online course where Miguel teaches step by step how to write, storyboard, animate, and promote a fun and engaging demo video for your company. To learn more CLICK HERE.
Get Our Top 10 Video Marketing Tips
Enter your email below to receive the exact strategies we've used to reach over 2,000,000 people with our videos without spending a single dollar in ads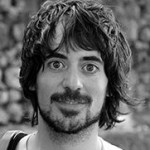 Learn How to Create an Awesome Demo Video The Grumo Way
Whether you are a do-it-yourself type of startup or a beginner wanting to learn how to produce great demo videos, our video training series will be perfect to help you produce outstanding explanatory videos.
Click Here to Learn more about this special offer.