Anat Gotfried took our Grumo demo video course and created her own demo video to stand out among all the applicants to get into Booth's MBA program. She got accepted and admissions told her they loved her video!
Here is a bit about how Anat put together her first demo video:
How long did it take to put together?
It took me about 2.5 months to complete the video. I work full time so I only worked on the video during the weekend.It took me about three weeks to complete the storyboard, 3 weeks to create all of my assets and another 3-4 weeks to create the video. If I was doing this full time, I believe that I could have created it within 1-2 weeks.

What was the simplest part?
Uploading the video to Vimeo.

How did you record the voice over?
I used my own voice with the iPhone Application 'VoiceRecord' that I learned about through the tutorial.

What was the hardest part?
Figuring out how to loop a piece of footage. I knew what I wanted to do but I had to search youtube to find an appropriate tutorial. It uses an Adobe AfterEffects expression which was a new concept to me.

Where did you find the music?
I used pond5.com. The only money I spent was $20 on sound effects. I'm sure I could have found them elsewhere for free but I didn't want to waste time. Pond5 is a great resource for sounds.

How did you find about Grumo?
I have seen this type of video before and I knew its what I wanted to do. After searching for this type of video I stumbled upon Grumo Media.

What other places online have helped you learn to put together this demo video?
My brother has a subscription to digitaltutors.com. I used their tutorials to learn Adobe Illustrator and some basic After Effects.
I used youtube a lot and other random sources through google.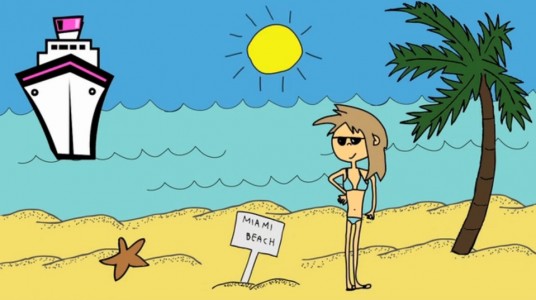 Thanks for sharing your awesome self promotional demo video and congratulations on getting accepted into Booth!
Get Our Top 10 Video Marketing Tips
Enter your email below to receive the exact strategies we've used to reach over 20,000,000 people with our videos without spending a single dollar in ads