Here is a pretty awesome demo video by Grumo Student Merav Perlstein promoting her new startup Whitsy.
Whitsy is the first and only website that enables employees and employers to receive, negotiate and accept bids for annual salaries BEFORE the interview. Check it out:
Merav shares with us a bit of her experience producing her first demo video:
How long did it take to put together?
It took me about 2 weeks to get everything together, start to finish.

How did you record the voice over?
I actually paid a professional to do that - I hired him from elance.com for about $150. Since I have an accent, I preferred to go with a professional.

What was the hardest part?
The script. No doubt. I took the Grumo course and watched the script part maybe 3 times. I then had multiple drafts, and in each one I changed and editted the text to make sure it has the 'problem' first, the solution, and then the brand. I followed the SUCCESS guideline and tweaked the script until I had a clear, crisp text. I think it was very important to let others read the script, too, before commiting to it, because after a few rounds, I found myself confused by the options and multiple edits.

What was the simplest part?
The design itself. I worked with a designer I found on oDesk ($500), and together we reached the right flow and illustrations for the video.

Where did you find the music?
The voice talent added it for me.

How did the Grumo course help you?
It helped especially in scrip writing, which in my opinion, is the most important part. I had to make sure that the concept was getting across in a an accurate, yet entertaining way. My concept is new and aims to flip the hiring process on its head - so I had to make sure it does not sound complicated, and that it is clear and intriguing - all in less than 2 minutes.

How did you find about Grumo?
I saw the Hipmunk video, and looked for the creator. When I found Grumo, I immediately took the course.

What other places online have helped you learn to put together this demo video?
Only Grumomedia.
Thanks for taking our animation course and for sharing your awesome work Merav!
Get Our Top 10 Video Marketing Tips
Enter your email below to receive the exact strategies we've used to reach over 2,000,000 people with our videos without spending a single dollar in ads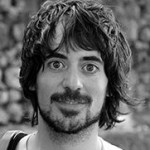 Learn How to Create an Awesome Demo Video The Grumo Way
Whether you are a do-it-yourself type of startup or a beginner wanting to learn how to produce great demo videos, our video training series will be perfect to help you produce outstanding explanatory videos.
Click Here to Learn more about this special offer.