Hola amiguetes, bípedos humaoides y fans de Grumo!
Voy a estar en Madrid durante todo el mes de Abril (1 al 29) y me encantaría conectar con tantos amigos, alumnos de Grumo, clientes, o personas con mentes afines como sea posible.
Si tú también estás en Madrid y quieres quedar para tomar una cerveza/café/fiesta/caminar/sesión nerdy, etc., puedes conectar conmigo mediante el formulario de abajo.
Te preguntarás:
¿Para qué leches voy a querer conocer a Miguelón en persona?
Jaja! Fíjate, No tengo ni idea..
Pero si por casualidad ya habías oído hablar de Grumo o resulta que eres uno de los 12.000 alumnos que han comprado mis cursos igual te puede resultar interesante tener la oportunidad de consultar conmigo sobre cualquier cosa relacionada con la producción de vídeos para empresas, cursos en línea, la vida en Canadá, cómo emprender un negocio en línea, o chorradas cibernáuticas varias. Además sin pagar!
Como algunos ya sabéis nací en Bilbao en España y he estado viviendo en Canadá desde hace 19 años, ¡guau! Cómo pasa el tiempo!
Trato de volver cada año, pero algunas veces no es posible y ya llevo par de años ya que no he vuelto.
Estoy muy contento de volver a mi país y volver a disfrutar de la comida española, la cultura, el fútbol, ​​las tapas, chorizo, paellas, y la locura generalizada que hace de la península Ibérica un lugar tan divertido y folclórico para visitar.
Así que si te gustaría quedar en Madrid simplemente rellena el siguiente formulario con tus datos.
Un fuerte abrazo a todos y nos vemos pronto!
*To read the English version of this announcement go [ HERE ]

---
Descubre más sobre Miguel y Grumo Media en estos artículos:
Who is Miguel Hernandez?
Grumo Media - About Page
Where did the name "Grumo" came from?
The origins of Grumo Media: A story of trial and error – Miguel Hernandez
Running an Animation Studio by Grumo Media - Interview by Animation Orbit
"Life is too short not to take risks" – Audio Interview with Grumo
How To Make Money Teaching on Udemy – An Interview by GigHopping
How To Create Videos That Get You Customers – Mixergy Interview
Get Our Top 10 Video Marketing Tips
Enter your email below to receive the exact strategies we've used to reach over 2,000,000 people with our videos without spending a single dollar in ads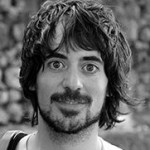 Learn How to Create an Awesome Demo Video The Grumo Way
Whether you are a do-it-yourself type of startup or a beginner wanting to learn how to produce great demo videos, our video training series will be perfect to help you produce outstanding explanatory videos.
Click Here to Learn more about this special offer.