Professional animation software like After Effects, Flash, or Maya is expensive and too complex to learn.
I know because many of my previous students struggled learning how to animate in After Effects.
Well, It turns out that you can do about 90% the same with just Keynote!
Don't believe it? I actually went ahead and recreated one of our most popular demo videos to date (PadMapper) entirely in Keynote
Check this video comparing the original After Effects version versus the Keynote one:

In this new course I'll teach you how to animate in Keynote using the PadMapper video as an example.
Keynote is the Mac version of PowerPoint and it is very cheap and super simple to use, but comes with a great set of animation tools.
We will go over the entire production process, from how to write an effective script that is fun, concise and sells, all the way to how to publish your video for maximum impact.
In 10 hours of video content and 84 lectures we will cover:
How to write an awesome script
How to storyboard your script
How to record voice over
How to illustrate in Keynote
How to animate in Keynote
How to edit your animation
How to add sound effects
How to pick a music track
How to export/publish your video
In a few hours you will learn everything you need to produce an awesome demo video, will save thousands of dollars by doing it yourself, and will have fun in the process.
You my dear readers can take the course here for 50% off using the coupon GRUMO50OFF:
CLICK HERE TO GO TO THE COURSE
Let's do it!
PS: Do you enjoy my courses? would you like me to teach anything in particular?
Just let me know in the comments or email me at miguel@grumomedia.com. Gracias!
Get Our Top 10 Video Marketing Tips
Enter your email below to receive the exact strategies we've used to reach over 2,000,000 people with our videos without spending a single dollar in ads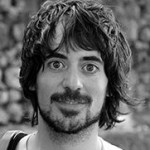 Learn How to Create an Awesome Demo Video The Grumo Way
Whether you are a do-it-yourself type of startup or a beginner wanting to learn how to produce great demo videos, our video training series will be perfect to help you produce outstanding explanatory videos.
Click Here to Learn more about this special offer.