KillerStartups.com just run a great article about Grumo Media after interviewing me last week over Skype.
Here is an excerpt that made me blush a bit:
Miguel Hernandez has all the markings of an Internet star: he's good looking, enthusiastic, and can talk for hours about things he cares about. But instead of taking that charisma to YouTube, Miguel has focused his energy on his current company, Grumo, creating awesome demo videos for clients ranging from Microsoft to smaller internet entrepreneurs.
Grumo Media started as a one man operation but like the article says now the team has grown around the world!
Thanks to our super awesome remote team of super talented artists to the success of Grumo Media!
Are you Grumo worthy?
Take our test to find out if you have what it takes to belong to our carefully curated community of world-class creatives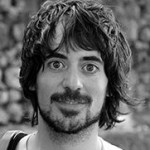 Learn How to Create an Awesome Demo Video The Grumo Way
Whether you are a do-it-yourself type of startup or a beginner wanting to learn how to produce great demo videos, our video training series will be perfect to help you produce outstanding explanatory videos.
Click Here to Learn more about this special offer.