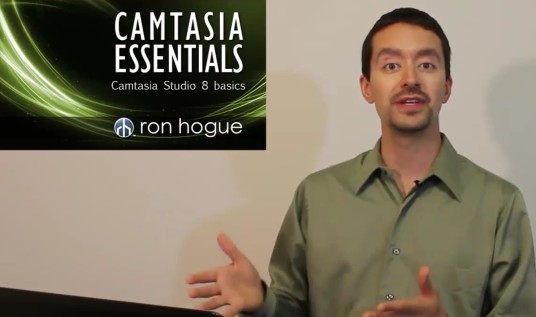 Ron Hogue shares with us how was his experience creating an online course on Udemy after taking Grumo's How to Create an Awesome Online Course:
Course Title: Camtasia Essentials
Coupon Code: GrumoMedia (63% off discount)*
Course link with coupon: https://www.udemy.com/camtasia-essentials/?couponCode=GrumoMedia
Why did you decide to create an online course?
More and more training is online and I love sharing what I know through teaching. I also want to generate online revenue.

How did you choose the topic of the course?
I won awards in two contests in 2012 for my Camtasia video . The first award was second place from a Camtasia training site. The big win was the Screenchamp award for Training from the makers of Camtasia – TechSmith.

What is the purpose of this course?
To help people get ramped up quickly on Camtasia Studio (PC version).

How did you find time to produce it?
I used nights and weekends to work on it. It took months, but instead of watching TV, I used a few hours in the evenings to create the course.

How long did it take you to put together?
I did not focus on course creation, so it took me a year. There were several months where I did no work on it. I created my outline for the course on June 29, 2012 and posted the course July 5, 2013.

What was the hardest thing to do?
Staying motivated. It seems overwhelming to have to create so much content well. But once I got close to the end, I did more and more and it got completed quickly. I'm now talking weekly with two guys who are creating their courses. We email weekly to stay focused and progress toward the goal of creating a course.

What was the simplest thing to do?
Record the lessons. After I took months in planning the course and creating the slide deck, I was able to record 15 – 20 lessons in only a couple hours. Recommendation: Batch your recordings if possible.

How did you determine the price of the course?
It was initially going to be free, but after Udemy asked me to be a mentor, I thought I should charge for the course. I started at $27 but many Udemy instructors said it was too low so I jumped it up to $67. I felt that was too high, so I dropped it to $47 because it's just an intro course. I plan to create an Advanced course and will market that course to the students taking the Essentials course.

What is your marketing strategy to promote it?
Embarrassingly, I don't have a marketing strategy. Right now, I've gotten an average of one paying student per day. I believe this is due to my mentioning/reference on the course, How to Create a Udemy Course. I am also talking with other Udemy instructors about cross promotions. I'm still learning about marketing my course and will revisit those lectures in Miguel's course.

What software did you use?
Camatasia Studio 8, of course! J I also used PowerPoint 2010 and the Snipping tool that comes with Windows 7 to get screenshots. That's it.

What hardware did you use? (camera, microphone, lights, etc.)
Camera: Canon T4i and Sony Bloggie
Microphone: Shure SM93 with Blue Icicle to convert it to USB
Lights: Work lights from Home Depot with LEDs (I put t-shirts over them to soften the light.)

What was the part the Grumo course help you the most with?
My favorite part was the "What makes people buy" section. The part that was the most helpful was looking at his whole course as an example (intro video, outline, lessons, slide deck, lesson length, etc.). I took a lot of notes on how he did it and tried to match.

What other resources have you used to make your course?
I absolutely LOVE the Udemy community support and feedback in the Udemy Studio facebook page. Signing up for that has been one of the best decisions. Highly recommended!

Please add anything else you'd think it would be cool for people to know about you and your course.
My course has lots of free resources for Camtasia even if you don't purchase the course. Resources include links to free and trial software, free tutorials, free music and animations, blogs on video creation, screencasting tips, keyboard shortcuts, user guide, support, and more.
Thank you Ron for taking my course and the time to answer these questions!

Delivering technical training since 2003, Ron has taught hundreds of students everything from Microsoft Office applications to soft skills to Networking. His passion for training is evidenced in his energetic and engaging deliveries.
Ron's love of learning and technology began in 1985 with a life-changing teacher and a Commodore 64 computer. He's upgraded his computer a few times over the years (it's now an i7) and continues to share what he learns on his video blog (http://ronhogue.com).
(*Note most Udemy coupons are bound to a quantity limit or expiry date so they may not work by the time you read this article. If they don't let me know and I always can ask the instructor to extend it or create a new one for you!)
---
Related Posts:
How to write your own explainer demo video
target="_blank">How to Create an Awesome Demo Video the Grumo Way
How to Create an Awesome Demo Video in Keynote
How to create an awesome WordPress site with no experience
Get Our Top 10 Video Marketing Tips
Enter your email below to receive the exact strategies we've used to reach over 20,000,000 people with our videos without spending a single dollar in ads