Just one day after I posted my latest grumo for PadMapper.com the awesome Ashton Kutcher posted on his Twitter: "this might be my favorite instructional video ever… http://www.youtube.com/watch?v=eN8nDVGfdZM".
Here is the screenshot of the Tweet: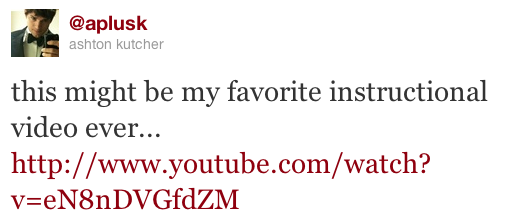 At the time Ashton tweeted about my video he had just over 6 million followers. Within 5 hours that tweet sent about 13 thousand people to the video on YouTube.

Here is the actual video Ashton linked to. If you watch it on YouTube you'll see 99% of the comments are from Ashton fans:
What is the lesson here?
There are a few lucky people in this world with such big followings. 6 million people is a lot of people. Just to envision try to count a person every second. To count 6 million seconds it would take you about 69 days or 10 weeks. (Actually more because saying numbers like 4,987,345 takes about 3 seconds to read alone).
What amazes me is the power these few lucky ones can have with just a few strokes on a keyboard or smartphone.
To write that tweet took Ashton a couple of seconds. But those effortless strokes were all he needed to get 6 million people to look where he wanted.
Before the Internet, hell, only a decade ago, before Facebook, Twitter, and the social network revolution this was not possible.
This finger tip control of masses is a recent phenomena which does not cease to amaze me.
The chosen ones, the ones people follow in the millions, own the levers that influence our tastes, opinions, minds, and time.
Think about this, Ashton spent about 5 seconds writing the PadMapper tweet and that effortless act sent 13,000 people to go watch a 1:41min video.
This means that my video was watched for a total of 365 hours. In other words, with 5 seconds of effort Ashton was able to consume 365 hours of his followers time.
Now, that is leverage. To be exact that is about 1 to 250,000 leverage!
So getting geeky to the max here, a single Ashton Kutcher Twitter second is worth a quarter of a million fan seconds!!!.
If there was some kind of human second stock market, Ashton stocks would be a great investment for sure.
I am investing in Ashton Kutcher Twitter Seconds (AKTWs) right now!
Having nerded you out of your socks, here is my question. How much are your Twitter/Facebook seconds worth?
This kind of number thing has always fascinated me, which may explain why I have spreadsheets for everything.
Another day, a post on how I have used spreadsheets to make some of the most important decisions in my life. Stay tuned amigos! this is just the beginning of the Grumo revolution!
UPDATE-: This article made it to the top of TheNextWeb front page [ HERE ].
Thanks to Mark Bryant for doing such nice write up.
Now the video has over 20 thousand views, most from Ashton Kutcher's tweet. So his Twitter leverage overtime is even greater!
I guess now he actually made my weekend instead of my day. Cheers Ashton and his followers!
Get Our Top 10 Video Marketing Tips
Enter your email below to receive the exact strategies we've used to reach over 20,000,000 people with our videos without spending a single dollar in ads