It's amazing to see how sad I feel for the death of someone I never met. All the technology I love and use everyday to make a living has his magic touch and when I look at it and use it, it reminds me of him.
Thank you Steve.
UPDATE Nov 15, 2011: I just read the fascinating Steve Jobs biography. You can grab a copy HERE
Get Our Top 10 Video Marketing Tips
Enter your email below to receive the exact strategies we've used to reach over 2,000,000 people with our videos without spending a single dollar in ads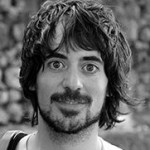 Learn How to Create an Awesome Demo Video The Grumo Way
Whether you are a do-it-yourself type of startup or a beginner wanting to learn how to produce great demo videos, our video training series will be perfect to help you produce outstanding explanatory videos.
Click Here to Learn more about this special offer.