I was captivated by Woody Allen's magic the first time I watched Annie Hall (1977).
34 years later Woody keeps delivering his magic. Midnight in Paris is a beautifully crafted film and a must-watch for anyone that enjoys great storytelling.
Here some keywords that come to my mind after watching this great movie:
It is amazing that at 75 years old, when most people are retired long ago, Woody can still produce such great work.
Thanks Woody, you are a true inspiration.
---
Related images:
Are you Grumo worthy?
Take our test to find out if you have what it takes to belong to our carefully curated community of world-class creatives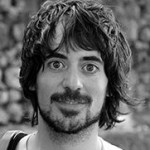 Learn How to Create an Awesome Demo Video The Grumo Way
Whether you are a do-it-yourself type of startup or a beginner wanting to learn how to produce great demo videos, our video training series will be perfect to help you produce outstanding explanatory videos.
Click Here to Learn more about this special offer.