Mamen Delgado, the winner of Grumo's first t-shirt contest just received her price, and official Grumo t-shirt with Grumo growling on it.
Here is Mamen wearing the shirt in Madrid:
To win our Facebook fans had to guess what Grumo was saying in this sketch:
Well, it turns out Mamen got it right. Grumo can only growl.. Grr!
A story of serendipity..
But the story doesn't end here my friends. Mamen is a voice over artist that had heard about Grumo recently from one of the candidates we auditioned for our very first Spanish Grumo.
At the time of the contest we were looking for a Spanish girl's voice for a really cool secret project we are working on for an awesome cause.
Well, finding the right voice was proving next to impossible because most little girl voices are actually done by mature female voice over artists pretending to sound like a kid.
For short sentences this can work but for our video we needed a genuine voice from a real 8 to 10 year old girl.
Guess what? Turns out that Mamen has a daughter precisely 8 years old so that same day Mamen and her daughter went to the studio and recorded the voice over for this upcoming grumo video.
Her daughter has the sweetest most awesome voice in the world and we want to thank both mom and daughter for saving the day for us on this one. Gracias! 😉
Get Our Top 10 Video Marketing Tips
Enter your email below to receive the exact strategies we've used to reach over 2,000,000 people with our videos without spending a single dollar in ads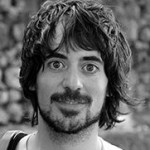 Learn How to Create an Awesome Demo Video The Grumo Way
Whether you are a do-it-yourself type of startup or a beginner wanting to learn how to produce great demo videos, our video training series will be perfect to help you produce outstanding explanatory videos.
Click Here to Learn more about this special offer.