You cannot take your eyes off it till the end because it has all the ingredients of a great epic movie.
Drama, suspense, high stakes, violence, "great" special effects, an unlikely hero involved, and a tragic ending. We are just missing the princess (may she is the one taping her hero from the safety of her balcony).
SPOILER WARNING: if you haven't watched the video yet, don't read the following.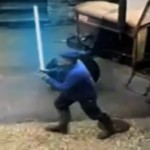 In reality this is a sad video where a group of very upset (and not very fit) people go at each other with sticks.
It is hilarious that the old man is so clumsy but determined to fight his enemies, but more so because his stick is transformed into a Star Wars light saber with some clever special effects trickery.
It is like a random car wreck/gladiator fight turned into a epic mini-movie with heros and villains all to the tune of one of the most famous soundtracks in the history of sci-fi cinema.
It even has a completely unexpected twist right at the beginning of the third act. Just when we thought the old man lost the battle he retrieves back to his swanky tractor, but hell no! not to give in to defeat but to produce a second light saber strategically hidden for occasions like this.
One has too assume that with such preparation our hero has had his share of light saber duels in the past and was looking forward to reminiscence his old glorious days as the top Jedi of the gallic rebels.
More intense epic drama than the last 3 multi-million dollar Star Wars movies combined delivered in a mere 90 seconds.
So what makes a video viral? definitely not length or budget. Take this as a lesson Hollywood!
Get Our Top 10 Video Marketing Tips
Enter your email below to receive the exact strategies we've used to reach over 2,000,000 people with our videos without spending a single dollar in ads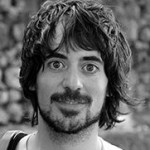 Learn How to Create an Awesome Demo Video The Grumo Way
Whether you are a do-it-yourself type of startup or a beginner wanting to learn how to produce great demo videos, our video training series will be perfect to help you produce outstanding explanatory videos.
Click Here to Learn more about this special offer.
Want to create grumos?
Categories
Popular Posts
What is a Grumo?
We call our demo videos
grumos
.
Grumo
is the Spanish word for clump. It doesn't mean anything in English but is an easy to remember, fun and unique word, exactly what our little demos videos aim to be.
[more..]
Tags
Grumo Elsewhere