Not only this is a incredibly well crafted stop-motion advert, it also has a nicely executed story and a strong message at the end.
What an original way to encourage safe sex!
Telling messages with no voiceover is quite a challenge and look at how well the story is told.
I also would like to know how it was shot, like:
Did they actually use non-permanent markers and deleted each frame per shot?
Are all grahics are computer animated and laid over live video using match moving techniques?

Original video here -> http://www.youtube.com/watch?v=9WPNhlzGoM0
Credits:
Director : Yoann Lemoine
Production : Wanda
Agency : TBWA
Get Our Top 10 Video Marketing Tips
Enter your email below to receive the exact strategies we've used to reach over 2,000,000 people with our videos without spending a single dollar in ads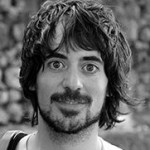 Learn How to Create an Awesome Demo Video The Grumo Way
Whether you are a do-it-yourself type of startup or a beginner wanting to learn how to produce great demo videos, our video training series will be perfect to help you produce outstanding explanatory videos.
Click Here to Learn more about this special offer.