This is a great example of a video using mostly text, data, and numbers to beautifully illustrate strong facts about population and the imbalance of global resources to the tune of a great track.
Are you Grumo worthy?
Take our test to find out if you have what it takes to belong to our carefully curated community of world-class creatives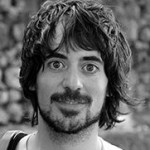 Learn How to Create an Awesome Demo Video The Grumo Way
Whether you are a do-it-yourself type of startup or a beginner wanting to learn how to produce great demo videos, our video training series will be perfect to help you produce outstanding explanatory videos.
Click Here to Learn more about this special offer.
Want to create grumos?
Categories
Popular Posts
What is a Grumo?
We call our demo videos
grumos
.
Grumo
is the Spanish word for clump. It doesn't mean anything in English but is an easy to remember, fun and unique word, exactly what our little demos videos aim to be.
[more..]
Tags
Grumo Elsewhere