As always I had a wonderful time in Spain this past April full of unforgettable experiences.
I want to thank all the friends, relatives, and grumo fans that met me and made this trip so much fun!
Here is to you all!
Dani y Marilu
Anartz y Ori
Gorka Vazquez
Iñaqui Vazquez y Guadalupe
Colocomics
Torbe
Jose Carlos Panadero
El Dioni
Zigoreto
Varinia (Vainilla)
Hermano
Rubi
Roberto Puch
Borjita
Moi
Iker Saez
Iker Ugarte
Mendi
Ana Hdez
Ina Robles
Iker Idigoras (Jebi)
Manu y Ariel (Fascination)
Lander Marroquin y Lara
Pedro Espinosa y Laura
Chino de DonCar
Ciprian Petrule
Sergio Sato
Alejandro Toledo
Nacho Charrabe
Veriti Harrison
Katie Chalcraft
Steve Arriguenna
Caroline McKim White
Fernando Ortega
Ricardo Pons
Javier Icazuriaga
Abel Aubone
Anika Giftge
and of course..
My Mommy!!!
---
Related posts:
Meet Miguel in Madrid - April 1 to 29
Get Our Top 10 Video Marketing Tips
Enter your email below to receive the exact strategies we've used to reach over 2,000,000 people with our videos without spending a single dollar in ads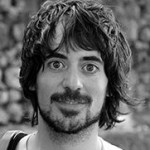 Learn How to Create an Awesome Demo Video The Grumo Way
Whether you are a do-it-yourself type of startup or a beginner wanting to learn how to produce great demo videos, our video training series will be perfect to help you produce outstanding explanatory videos.
Click Here to Learn more about this special offer.