Hipmunk is a great little startup which mission is to make booking flights a painless experience.
To accomplish this goal, they have designed an amazing user interface that helps you visualize the best possible flight combinations on just a single screen.
Twitter Love for the Hipmunk Video
Right after publishing this video got lots of love from Hipmunk fans. Thanks!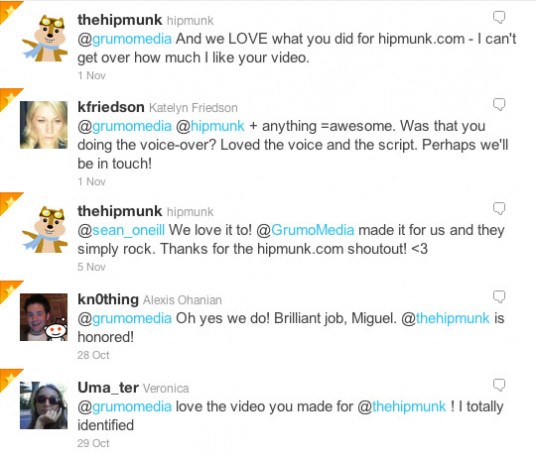 The Story Behind the Hipmunk Video
This video is very special because It is pretty much the reason behind why I started Grumo Media.
Before that, I had only created 2 demo videos, one for my startup PointKit and another one for my friends at Summify
The video was created entirely by me, including voiceover, as a spec, for fun, and with zero input from anyone. All while I was in Hawaii with the in-laws. One would think that going to Hawaii would be the perfect occasion for me to unplug from my computer, but it wouldn't be the case.
When an idea gets stuck in my brain, I cannot stop thinking about it. This time, I really wanted to help Hipmunk promote their awesome flight search service. I have been a fan of YCombinator for a few years and always wanted to have my own startup. I thought, if I could somehow create something valuable for a successful YC startup, it may give me an opportunity to get closer to that world. As it turned out, that is exactly what happened. The video was a success and next thing I knew I was talking to almost every other YCombinator founder. Including, YCombinator co-founder, Trevor Blackwell who wanted an animation done for his own startup, Anybots. (Watch the Anybots animation HERE)
The same day I finished it, I sent a link to Hipmunk via their support email. The guys at Hipmunk loved it, and only a day after, it was posted by Alexis Ohanian, Reddit and Hipmunk co-founder, on the official Hipmunk blog. Immediately after, requests for similar videos poured in from across the world.
About 40 different companies contacted me within the following week after I released the video and Alexis promoted it.
Being just one person at the time, I could not handle the workload so I had to turn down many requests and only concentrate on the ones I had the most interest on. I quickly had to consider hiring help so I contacted all my friends in the Industry and posted a couple of ads looking for help.
Again, about 40 artists contacted me within the next few days applying for the position. After going through all the reels and rating each individually based on complexity, illustrations, 3D, transitions, wow factor, and love* (I'll explain this later) I contacted about 20 to give me quotes to produce similar videos.
Eventually I hired 3 great animators which helped me produce some of the animations on this website.
*The Love Factor: when looking at reels I wanted to measure the ablity of the animator to tell a story and emotionally connect with the viewer. I couldn't find any good word to explain that warm feeling you get when a story draws you in like that, so I simply called it "love". Like all the other factors, I rate it from 1 to 5. Five being best, one being worst. Then I take the average of all the other factors combined and only contact animators with averages 4 or higher, in other words, awesome animators!