Animated demo video produced by Grumo Media.
This demo video was commissioned by a very special client of Grumo.
Why? this is the same team that hired me 5 years ago to produce the first demo video Grumo ever created! In fact, Grumo was not even born yet. I didn't even have a website.
Back in 2010 I was struggling financially after spending all my savings trying to launch my own startup (Pointkit). Then one day, I attended a local mentors speed dating event. An event to match startups with mentors. I was looking for help and advice on how to make my startup work.
At that event I met some wonderful mentors and entrepreneurs and among them there were these 2 really smart and friendly Romanians, Mircea Pasoi and Cristian Strat.
They just moved from Romania to Vancouver to launch their own startup as part of a local incubator called Bootup Labs.
I became good friends right after that day and a few months later when they were ready to launch their product they asked me if I could produce a small animation explaining how it worked.
The product was called Summify and you can watch the video HERE.
Summify grew its user base really fast. It was a very clever tool that would aggregate the most popular news and articles across all your social networks and send you a daily digest email with the only the top ones. After a few months growing exponentially they got acquired by Twitter which was big news for the local startup community in Vancouver.
Eventually they left Twitter to take some time off and to work on another startup called Alien Labs where they are using artificial intelligence to create very clever productivity bots like Pogo the Slack-bot!
From Grumo I want to thank my favorite Romanians for being so awesome, helping me start Grumo, hiring me again, and wish them much more success with their new startup!
Vă mulțumim și că forța să fie cu tine!
Video Script
"Hey, do you remember the link for for that spreadsheet?"
"Oh yeah! Uhh..mm"
Guess what? You don't need to!
Introducing Pogo, a friendly Slack bot that remembers information for you and your team.
Just tell Pogo what to keep in mind, and next time you need help, he'll point you in the right direction!
Looking for those meeting notes? [Type:/go notes]
Here you go!
Computer trouble? [Type:/go IT]
Not anymore..
Need the latest designs? [Type:/go designs]
How about some time off? [Type:/go vacation]
With Pogo, you'll always find your way!
Add Pogo and his bot friends to your Slack at alien.ai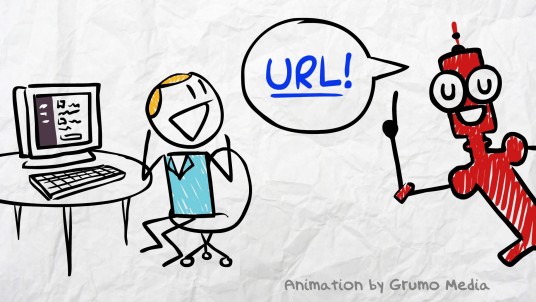 Get Our Top 10 Video Marketing Tips
Enter your email below to receive the exact strategies we've used to reach over 20,000,000 people with our videos without spending a single dollar in ads