VideoGenie helps you capture all your fans' passion by easily letting them record short videos of themselves from any web browser or mobile device.
Created by http://grumomedia.com
You can try VideoGenie yourself right now!
Simply go click on the orange button and record your own short 30sec video telling why you love us. Have fun!
YES! I LOVE GRUMO! OH YEAH!
Testimonials for VideoGenie's Grumo demo video
Here we have Justin Nassiri, VideoGenie's CEO giving a good plug for Grumo Media:
And more love here from VideoGenie's Co-Founder and Chief architect Rob Starling:
Thanks a lot guys!
Get Our Top 10 Video Marketing Tips
Enter your email below to receive the exact strategies we've used to reach over 2,000,000 people with our videos without spending a single dollar in ads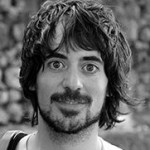 Learn How to Create an Awesome Demo Video The Grumo Way
Whether you are a do-it-yourself type of startup or a beginner wanting to learn how to produce great demo videos, our video training series will be perfect to help you produce outstanding explanatory videos.
Click Here to Learn more about this special offer.