Alistair Gallop and his partner Lee Fuller just sent me what I think is the best executed demo video from a Grumo student so far.
I mean, if they were not working on their awesome new startup SocialBizzle, I had to hire them to do videos for Grumo!
Here is their awesometastic demo video:
I asked Ali to share with us how was the process of producing this fantastic promotional video:
How long did it take to put together?

Start to finish - 3 weeks

How did you record the voice over?

We took your advice and Lee had to sit under a duvet in his pants in the height of summer (rather sweaty). We actually used a Sennheiser EW-100 lapel mic which we already had and it gives us excellent sound quality. We then tweaked it slightly in Adobe Audition.

What was the hardest part?

Animation wise - videos coming out the bottom of the Bizzle Brain. Overall, just making sure we got our message across whilst keeping the viewer engaged!

What was the simplest part?

Coming up with the funny bits however it was sometimes tricky to transfer that into the script and make it flow.

Where did you find the music?

We didn't use a soundtrack however used some sound effects from resources listed in your training. Some sound effects were home made (thats me being Neo saying Mr Anderson!!!)

How did you find about Grumo?

Google I think, its hard to remember but I do remember searching for hours on end for this kind of thing and couldnt believe there was an actual resource that gave me exactly what I needed.

What other places online have helped you learn to put together this demo video?

Youtube for general little bits I was unsure on, but your training pretty much covered everything I needed to know to make this happen. If you have some cool ideas, you can 100% combine them with this resource and get results!
You can find out more about SocialBizzle at http://www.facebook.com/socialbizzle
Great job Ali! thanks so much for taking the course and producing such an awesome first demo video for your new startup!
Related posts:
How to create a great product demo video using Keynote.
How to Create an Awesome Demo Video the Grumo Way
Get Our Top 10 Video Marketing Tips
Enter your email below to receive the exact strategies we've used to reach over 2,000,000 people with our videos without spending a single dollar in ads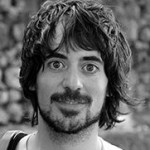 Learn How to Create an Awesome Demo Video The Grumo Way
Whether you are a do-it-yourself type of startup or a beginner wanting to learn how to produce great demo videos, our video training series will be perfect to help you produce outstanding explanatory videos.
Click Here to Learn more about this special offer.