If you ever had to put together a scavenger hunt you already know what a daunting task that can be. Luckily from now on GooseChase will make organizing them a blast!
Animated video demo produced by http://grumomedia.com
Testimonial From GooseChase
"The product overview video that Grumo made for GooseChase was flat-out incredible. They fully understood our product and delivered the exact video we needed. Within the first day of putting it up on our site we received a flood of positive feedback from customers and peers. We couldn't be happier! I will be recommending Grumo quite frequently going forward."
Andrew Cross, Co-Founder & CEO
GooseChase Video Script
Scavenger hunts are an exciting way to bring people together
but a nightmare to organize!
You don't want to run around like a chicken with its head cut off,
So what do you do?
GooseChase will let you keep your head.
GooseChase is a cool app that lets you effortlessly put together a memorable scavenger hunt.
All you have to do is:
1. sign in
2. create missions or choose missions from an extensive list (kiss Elvis)
4. announce the event to your participants
Now you can sit back and enjoy!
Participants download the GooseChase app and join the game you created.
They complete missions and gain points by submitting a picture of themselves or their team members doing each challenge.
Submitted photos are judged by other participants.
So photos can lose points if they are not good enough.
When the time is up, the team with the most points wins.
Participants run around, meet new people,
complete challenges, collect points and have a blast!
So keep your head where it belongs and start your first scavenger hunt today with..
GooseChase.
Scavenger hunts for the masses
[ Click Here to get your own Grumo demo video ]
Get Our Top 10 Video Marketing Tips
Enter your email below to receive the exact strategies we've used to reach over 2,000,000 people with our videos without spending a single dollar in ads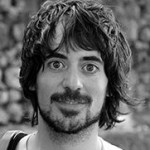 Learn How to Create an Awesome Demo Video The Grumo Way
Whether you are a do-it-yourself type of startup or a beginner wanting to learn how to produce great demo videos, our video training series will be perfect to help you produce outstanding explanatory videos.
Click Here to Learn more about this special offer.