Hello grumo fans of the interwebs and beyond!
I'll be staying in Madrid for the whole month of April (1st to 29th) and would love to connect with as many friends, grumo students, clients, like minded humans as possible.
If you are also in Madrid and want to meet for lunch/beer/coffee/fiesta/walk/nerding session, etc. you can let me know using the form below.
So what is so cool about meeting me in person?
Probably not much because cool is not really one of my defining characteristics.. hehe
But if by any chance you have heard about Grumo Media before or happen to be one of the 12,000 students that have bought my courses you may find interesting having the opportunity to consult with me about anything related to producing demo videos, online courses, living in Canada, or running an online business for gratis!
As some of you know I was born in Bilbao in Spain and have been living in Canada for 19 years now, wow! time flies!
I try to go back every year but some times is not possible so it's been a couple of years since I haven't been back.
I am very excited to return to my country and get my long due dose of Spanish food, culture, soccer, tapas, chorizo, paellas, loud and opinionated people, and overall craziness that makes the Iberian peninsula such a flavourful place to visit.
So if you are interested in meeting me in Madrid just fill in the form below and let's get together for some nerdy times!
*Para ver la versión en castellano de esta noticia ir [ AQUI ]

---
You can learn more about Grumo and Miguel in these posts:
Who is Miguel Hernandez?
Grumo Media - About Page
Where did the name "Grumo" came from?
The origins of Grumo Media: A story of trial and error – Miguel Hernandez
Running an Animation Studio by Grumo Media - Interview by Animation Orbit
"Life is too short not to take risks" – Audio Interview with Grumo
How To Make Money Teaching on Udemy – An Interview by GigHopping
How To Create Videos That Get You Customers – Mixergy Interview
Get Our Top 10 Video Marketing Tips
Enter your email below to receive the exact strategies we've used to reach over 2,000,000 people with our videos without spending a single dollar in ads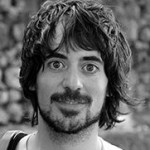 Learn How to Create an Awesome Demo Video The Grumo Way
Whether you are a do-it-yourself type of startup or a beginner wanting to learn how to produce great demo videos, our video training series will be perfect to help you produce outstanding explanatory videos.
Click Here to Learn more about this special offer.