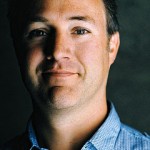 Danny Robinson has not only been a mentor and advisor to me but to hundreds of other startups in British Columbia and Canada.
A couple of months ago I managed to catch the attention of billionaire entrepreneur Mark Cuban through one of my connections at YCombinator.
Just a day after my friend sent Mark my bio and sample work, Mark showed interest in investing in Grumo Media.
Of course, I could not believe this was happening to me, specially only a couple of weeks after releasing my second demo video ever!
Having no experience whatsoever dealing with VCs or raising capital I had to get advice ASAP.
The first name that came to my mind was Danny. If anyone in Vancouver has experience raising money from tough Silicon Valley entrepreneurs is him. Within minutes I got a hold of him and was kind enough to give me his thoughts and expert advice on how to handle the situation and what to expect.
Danny told me that is is very unusual for VC's to invest in service based companies as their return on investment is very unlikely to be large enough as opposed to investments made on a product or consumer based business.
Danny was one hundred percent right. Even though my connection was able to put my name and company before the eyes of Ron Conway and Chris Yeh, it was only a matter of days before they would pass on the investment.
At any rate, it was a hell of a ride and got me in contact with some of the top VC's and entrepreneurs in the world.
I surely would have not believed anyone telling me that a simple demo video produced while vacationing in Hawaii could have given me the opportunity to meet so many cool people in so little time.
Thanks so much Danny for your advice, you rock!
---
More about Danny:
Danny has been one of the major forces behind the recent startup movement in Vancouver.
Having raised over $100 million of capital for several startups and having been a serial entrepreneur himself, Danny has become the guy to go for startup advice in BC.
A lot of Danny's efforts to convert BC in the best place to start a company in the world could not have been possible without the help of his long time life companion and wife Maura Rodgers. In fact, when anyone mentions Danny they should immediately give credit to Maura as well.
Both make a tremendous couple and have been extremely proactive at organizing many events to promote upcoming startups and to help them find mentors and meet some of the top investors both in Canada and Silicon Valley.
Through their BootUp Entreprenerurial Society they have helped organize a very successful new startup promotional event called LaunchParty. As of early 2011 they have organized 10 of these events which have dramatically grown in popularity and now draw 500 plus crowds from all walks of the startup community.
Until recently, Danny and long time friend an savvy entrepreneur Boris Mann were running their own startup accelerator called BootUp Labs. In only 2 years both where able to mentor and help raise capital to 9 great Vancouver startups.
In addition to all their startup philanthropic efforts, Danny and Maura run their own online contest platform startup called Strutta.
Recently, Danny made a fantastic career move and became the CEO of the British Columbian Innovation Council where he plans to carry full steam with his dream to see Vancouver become the best place to start a startup on this earth.
---
Related Links:
Danny Robinson Crunchbase profile
Danny Robinson About.me page
BootUp Labs Blog
BCIC article about Danny Robinson
Maura Rodgers interview about LaunchParty on Straight.com
LaunchParty official webpage
Boris Mann personal blog
Get Our Top 10 Video Marketing Tips
Enter your email below to receive the exact strategies we've used to reach over 20,000,000 people with our videos without spending a single dollar in ads