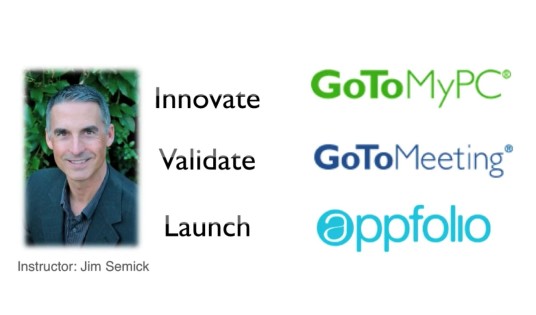 Jim Semick shares with us how was his experience creating his first course on Udemy after taking Grumo's How to Create an Awesome Online Course:
Hi Miguel,

I took your course about a year ago on how to create an awesome course. I loved it and got so much valuable information out of it. With the great tips in your course I went on to create my course, How to Launch a Profitable Product: From Idea to Revenue

Since I launched my course, I have gotten some really great reviews on Udemy. However I just haven't had the time to promote the course significantly.

I have created a coupon code that gives the course to your readers with an 80% discount. The coupon is good through the end of August.

Here it is the coupon link:
https://www.udemy.com/business-model-and-pricing-strategy/?couponCode=grumo

Why did you decide to create an online course?
I have a lot of valuable first-hand experience launching successful software products like GoToMyPC, GoToMeeting, and AppFolio. I often share my experience with other product managers and entrepreneurs and thought this would be a way to reach a wider group (plus I wanted to have some fun creating a course).

How did you choose the topic of the course?
Helping figure out the right product to build is something I'm passionate about. The topic was an easy one for me.

What is the purpose of this course?
To help product managers and entrepreneurs discover and launch the right product that makes them money!

How did you find time to produce it?
I'm really busy consulting with companies and building software products. So finding time was hard. I spent lots of evenings and a couple of weekends making the course.

How long did it take you to put together?
All told it was about 20-30 hours to write, record, edit and launch it.

What was the hardest thing to do?
The first lesson was the hardest because I wanted to get it right. All the others were easier after the first one was done.

What was the simplest thing to do?
Posting it on Udemy was easy.

How did you determine the price of the course?
I have experimented with different prices to determine whether a lower price yields more students (I've found that it doesn't make much difference unless I give the course away for free).

What is your marketing strategy to promote it?
I have used Twitter and LinkedIn primarily, as well as posts on my blog http://www.productdiscovery.com/blog. I also have offered the course at a discount to events where I'm advising entrepreneurs such as Startup Weekend.
I'm so busy with my businesses that I wish I had more time to promote the course.

What software did you use?
PowerPoint and Camtasia

What hardware did you use? (camera, microphone, lights, etc.)
Macbook Pro built-in camera, high quality microphone, and a basic lighting setup.

What was the part the Grumo course help you the most with?
It showed me that it's not that hard to build a course! Thank you Miguel!

What other resources have you used to make your course?
I also purchased a nice PowerPoint template that looked professional.
Thank you Jim for taking my course and the time to answer these questions!
So if you are interested on taking Jim's course he has made available a special 80% discount coupon link.
Here it is: https://www.udemy.com/business-model-and-pricing-strategy/?couponCode=grumo*
And if you would like to learn how to create your awesome online courses too here is Grumo's own 50% discount link: https://www.udemy.com/how-to-create-an-awesome-online-course/?couponCode=LOVE2TEACH

For over 15 years, Jim has worked in software technology as an early-stage startup employee, entrepreneur, and advisor. He has a successful track record of working with venture-funded software companies to discover and launch winning new products, and is a frequent speaker on the process of discovering and launching products that get it right the first time.
(*Note most Udemy coupons are bound to a quantity limit or expiry date so they may not work by the time you read this article. If they don't let me know and I always can ask the instructor to extend it or create a new one for you!)
---
Related Posts:
How to write your own explainer demo video
target="_blank">How to Create an Awesome Demo Video the Grumo Way
How to Create an Awesome Demo Video in Keynote
How to create an awesome WordPress site with no experience
Get Our Top 10 Video Marketing Tips
Enter your email below to receive the exact strategies we've used to reach over 20,000,000 people with our videos without spending a single dollar in ads