Josie Ong tells us how was her experience creating her course on How To Journal For A Better Life after taking Grumo's How to Create an Awesome Online Course.
What is the course about?

Journaling Pod is for anyone who wants to take self-reflection, self-awareness and self-care to new heights. Through the Journaling Pod worksheets and lectures you'll discover your own journaling style as you hear the tools, tips and techniques that make for an effective and consistent journaling practice.

As a clinical counsellor and health educator, whenever clients have wanted to journal, the number one question I got was "what do I write about?" Well, Journaling Pod delivers 12 guided journaling templates that have worked for me and many of my clients. AND something very unique is that Journaling Pod also includes a private podcast feed (that you won't find in iTunes unless you have the feed) where you get the 12 guided journaling templates in audio format…meaning that you can journal while you go for a walk, take the bus, workout at the gym…the possibilities are endless!

How did you choose the topic of the course?

This is a passion play for me. I've journaled since I was 11 years old and it just made sense to take my personal and professional experience with this super convenient stress and emotion management tool and deliver it to those who are totally into personal development and know the power of transforming beliefs about yourself.

Why did you decide to create an online course?

Because I'm now a stay at home momma, podcaster and entrepreneur. I love educating myself and others. Before becoming a stay at home mom, I delivered over 2,000 health promotion presentations and creating an online course fulfills my itch to educate and inspire AND I can do this around my mommyhood schedule.

How did you find time to produce it?

My parents come over almost every afternoon to hang out with my daughter and take care of her. This is when I get my workout, errands and content creation done. I also kept a google doc synced to all my devices for noting ideas and thoughts as they come.

How long did it take you to put together?

I purchased How to Create an Awesome Online Course in April 2015 and finished pulling together my course outline, logo and branding in July 2015. Then it took about a month to decide which platform I wanted to use for my course. I realized there is no perfect online course platform but I decided on Teachable because I thought it was a good fit, and reminded myself I could always pivot later.

I started working on my lectures, slides, worksheets, and journaling templates in September 2015 with a goal of finishing and launching by the end of 2015…but then I discovered I was pregnant! Morning sickness kept me on the sidelines for a while and at times, I felt discouraged because I didn't feel like I was accomplishing very much, aside from the human being growing inside me 🙂 Eventually my energy returned and I told myself that maybe the timing is better to launch in the new year anyway. And I finally did launch in February of 2016, almost 10 months after I took How to Create an Awesome Online Course.

What was the hardest thing to do?

Selling! I'm slowly feeling more confident with it but it doesn't come naturally to me.

What was the simplest thing to do?

Creating the Journaling Pod podcast – not just because I have more experience with podcasting than creating online courses, but also because I was super excited to create a new technique for journaling.

How did you determine the price of the course?

I chose a price that I was comfortable with, even after any promotions and affiliate commissions.

What is your marketing strategy to promote it?

I promote through my Affirmation Pod podcast, Affirmation Pod Facebook Group, email list, networking with other podcasters and some social media.

What software did you use?

ScreenFlow, Adobe Audition CS6, Photoshop Elements 11, Keynote, Trello, Google Docs, PDFEscape, Libsyn, QuickTime

What hardware did you use? (camera, microphone, lights, etc.)

Heil PR40 Mic, Mackie ProFX8 Mixer, Roland R05 external recorder, Sony MDR-7506 Headphones, iMac computer, iPhone 5 for private podcast feed tutorials, Canon EOS 60D camera for photos I used as slides (I found the camera on my iPhone and iPad didn't have great resolution)

What was the part the Grumo course help you the most with?

I liked how Miguel had a lecture on "Mental Requirements" so much that I Included a piece on "Mental Requirements" in my own course!

What other resources have you used to make your course?

DepositPhotos.com (for slide images).

Please add anything else you'd think it would be cool for people to
know about you and your course.

For me, every 1 minute of lecture took 1 hour of time. Does this sound like a lot? Yeah, I thought so too! But when I added up my time scripting, rehearsing, recording, editing audio, creating slides, adding animations, reviewing draft, editing draft, reviewing final and uploading to course, it was a 1 min:1 hour ratio for me. And this doesn't include my time setting up my sales page, worksheets, guided journaling templates, Journaling Pod podcast, promo video, and launch strategy.

Since I've created my course, many people have congratulated me and also shared how they had an idea for a course or started creating one but never finished. I've shared with them that I took How to Create an Awesome Online Course and it helped me understand all the steps from "Break It Down" where I learned how to organize and track my course creation progress to "Promoting Your Course" where I learned 12 ways I could promote my course after it's created…and why Miguel does not like Chorizo pages!

Thanks again for your THOROUGH course!
Josie was very generous and created a promo link for 50% off for her course Journaling Pod.
Just use any of these two links to get the discount:
JournalingPod.com/GrumoMedia
JournalingPod.com/Grumo
The course is $297 USD. With the discount it is $148.50 for students!! Yipeee!
And if you are interested in learning how to create and sell your own courses you can check Miguel's course here and get it for a nice 50% discount using the coupon GRUMO50OFF.
Check it out here: http://grumoschool.com/course/how-to-create-an-awesome-online-course/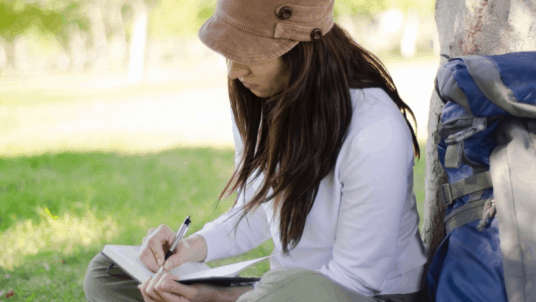 Get Our Top 10 Video Marketing Tips
Enter your email below to receive the exact strategies we've used to reach over 20,000,000 people with our videos without spending a single dollar in ads