Today I had the pleasure to co-host a webminar about demo video production with Jon Acosta from Content Creators Lounge.
If you are new to demo video production and are curious about what it takes to produce a great video for your company I think you will find this webminar quite interesting.
We cover lots of topics, from script writing, good vs bad demo videos, learning to animate one yourself, hiring a studio, live action vs animation, demo video templates, animation software options, music resources, and even a free gift at the end.
The webminar was supposed to be 1 hour long but we were having so much fun we went almost 45 mins over time!
Here is the entire webminar video recorded from Google Hangouts.
You can read a lot of the questions and answers from this webminar in this page:
http://www.contentcreatorslounge.com/miguel-hernandez-live-webinar
You can download all the presentation slides here: http://grumomedia.com/files/GrumoMedia-CCL-Webminar-Slides.pdf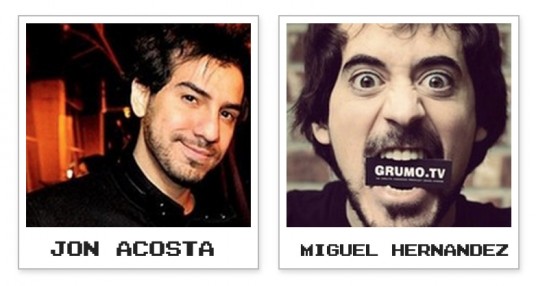 Enjoyed it? Here you have 9 more interviews with Miguel Hernandez:
How to build your brand the Grumo Way – Interview by The Business Growth Podcast
The origins of Grumo Media: A story of trial and error – Miguel Hernandez
Running an Animation Studio by Grumo Media – Interview by Animation Orbit
"Life is too short not to take risks" – Audio Interview with Grumo
How To Make Money Teaching on Udemy – An Interview by GigHopping
How Grumo Overcame His Fear of English and Built a Successful Company
How To Create Videos That Get You Customers – Mixergy Interview
Explainer Videos Explained: Interview by The Local Method
Grumo Advice to First Time Entrepreneurs – Interview by Siosism
Get Our Top 10 Video Marketing Tips
Enter your email below to receive the exact strategies we've used to reach over 20,000,000 people with our videos without spending a single dollar in ads