Dávid Sólyomi tells us how was his experience creating his course on How to Build a Passive Income Dividend Portfolio after taking Grumo's How to Create an Awesome Online Course.
What is the course about
It teaches students how to build a portfolio of dividend stocks that provide reliable and growing passive income. This is the way to achieve financial freedom, and the course gives a step-by-step guide how to do it properly. I share my own experience since I am a dividend investor and my dividends already cover all my living expenses, which is a great feeling. I want to help others get to this point without making the typical costly mistakes. (Most of which I have firsthand experience with…)

How did you choose the topic of the course
I have read dozens of books on dividend investing, asked the most reputable experts of this field all my questions and put together a system that simplifies the stock selection process and works very well. This took me about 3-4 years! After this I wrote a best selling book on dividend investing in my home country, Hungary and I used to teach this approach in a personal training format, until I created my Hungarian online course. All these were really successful and according to the feedback of hundreds of my readers/students: very useful.

Why did you decide to create an online course
Seeing the encouraging results of my Hungarian students I wanted to make this knowledge available to a much wider audience this is why I chose Udemy as my platform. The Hungarian market was perfect for testing and fine-tuning my training, so the Udemy version is the best I have created so far. A real step-by-step guide that is very easy to follow, available for millions of people. A winning combination I hope.

How did you find time to produce it
Right now I am training for an ironman triathlon event, so it was hard to find the time to create the course. What worked for me was to devote at least 1 hour per day for this purpose. Once I had the momentum it was impossible to stop 🙂 I am really enthusiastic about my course topic, that comes through when I teach, so only the start was difficult.
Otherwise I am not only teaching dividend investing but I am living from the dividends of my own portfolio, I have no 9-to-5 job, so finding the time for the course production was rather a matter of determination.

How long did it take you to put together
Much longer than I anticipated. About 2 months. There were days when I could only devote 1 hour to this project but often I invested 4-6 hours. English is not my mother tongue so I double checked all my scripts and spent much time with the afterwork on my videos (cutting etc.)

What was the hardest thing to do
Recording the talking head videos. I have never recorded myself talking to the camera before so it was a learning process. But I really enjoyed it. I discovered several ways how it should NOT be done 🙂

What was the simplest thing to do
Putting the course material together. I knew what I wanted to teach so creating the structure of the course was easy. My book and the Hungarian training and online course were of great help of course.

How did you determine the price of the course
Udemy changed the pricing rules during my course production process. I wanted to price my course at 87$, since I feel it is worth much more than that. (And it sells for more in my home country.) When I got to know the new rules I simply opted for the 50$ price level and decided that selling for a lower price but hopefully to more people is fine for me. My main goal is to impact the lives of as many people as possible with this knowledge, so pricing and profit making are not of primary importance for me.

What is your marketing strategy to promote it
I have published the free preview videos on YouTube. I am using Scribd and Slideshare as well. I am planning to post regularly on dividend investing forums. And of course I am counting on your awesome students 🙂

What software did you use
Camtasia for recording the screen and iRig Recorder iPhone app for sound recording.

What hardware did you use (camera, microphone, lights, etc.)
iRig Mic HD for sound recording with the screen capture videos. iPhone 6s for recording the talking head videos.
I had no special lighting equipment or anything else.

What was the part the Grumo course help you the most with
I loved your enthusiasm. You motivated me to productize my knowledge and give it to as many people as possible. I wouldn't sell anything the usefulness of which I am not 100% sure of, so I am very happy I could bring a proven product to the Udemy marketplace with your help and motivation.
While watching your videos I took notes about how I should structure my course, the sales page and the promo video. I used the info you shared and now I hope for the best possible results 🙂

What other resources have you used to make your course
I watched some Udemy courses about course creation and marketing but not much else. I knew what I wanted to do and it was all about sitting down and produce the course at the best possible quality I am capable of. It has passed Udemy's review process very quickly without any issues.

I am so sure of the quality of my course that I guarantee that by the time a student finishes the course he or she will not only understand the mechanics behind the success of dividend investing but will also have a shortlist of top quality dividend stocks that are available at bargain basement prices. The successful start is virtually guaranteed for all my students and thereafter I am here to help them with all the questions that might come up. It is fun to watch your passive income increase… I wish I had such help when starting out 🙂
Enjoy your dividends!
Dávid was very generous and created a promo link for 30% off for his course on dividend portfolio strategies.
Just use this link to get the discount: CLICK HERE
And if you are interested in learning how to create and sell your own courses you can check Miguel's course here and get it for a nice 50% discount using the coupon GRUMO50OFF.
Check it out here: http://grumoschool.com/course/how-to-create-an-awesome-online-course/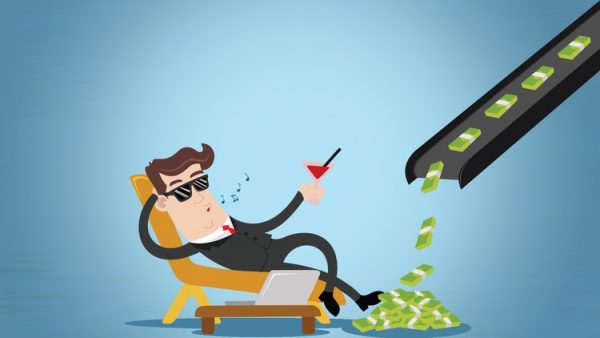 Get Our Top 10 Video Marketing Tips
Enter your email below to receive the exact strategies we've used to reach over 20,000,000 people with our videos without spending a single dollar in ads