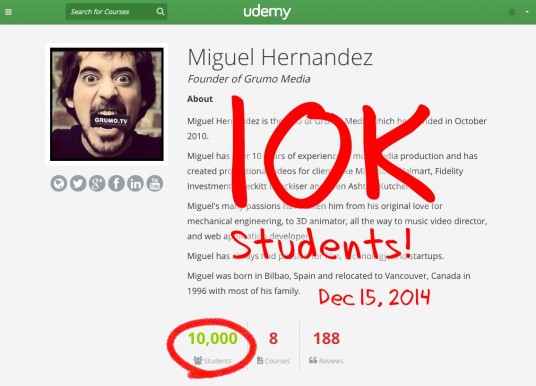 I'm very happy – today I reached 10,000 students taking my courses on Udemy.. yipeee!
When I published my first course 3 years ago I never thought I'd even get past 1000 students.
I started with one course "How to create an awesome demo video for your business" followed by "How to create an awesome online course". Now I have 8 courses, you can check them out here: https://www.udemy.com/u/miguelhernandez/
People ask me all the time how I managed to be so successful on Udemy.
I'm not exactly sure why but I think it is a combination of these factors: Timing, hard work, passion, and luck.
Looking at those factors it seems like they could be perfectly applied to what it takes to be successful at anything, to life in general.
Let me explain a bit more what each of those factors mean in the context of my experience creating online courses.
Timing
Udemy launched in 2010, the same year I started Grumo Media. At that time they were small and working very hard to find new instructors and courses to add to their platform.
The first time I heard about Udemy was back in 2011 on a Mixergy interview with one of its co-founders Gagan Biyani.

It just happened that about 3 months before watching that interview I had watched another interview with a very ambitious young woman on the topic of selling courses online. Her name is Laura Roeder and at that time she was already making around $300K a year selling courses teaching how to use social media.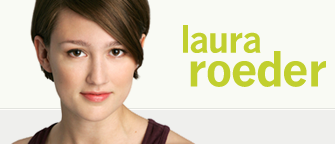 That interview prompted me to release my first course. Choosing a topic for my first course was very easy.
I created a course teaching how to produce animated demo videos based on my experience running Grumo Media.
It took me about 2 months to finish the 10 hour course in the evenings and I started selling it on target="_blank">this very website for the same price Laura Roeder was selling her courses, $297.
To my surprise the first month I sold 20 courses and even though I sold them for half the price I could not believe anyone would actually pay money to learn the basics of animation from me.
Finding out about Udemy at its early stages was great timing because they just had raised quite a bit of money. They were very aggressively spending marketing dollars to promote all the courses they had managed to gather up to that point in time.

Because I was one of the first instructors on their platform it just happened that many of those marketing dollars were spent promoting my course. There was a time where I would see my face on their Facebook adds almost every week.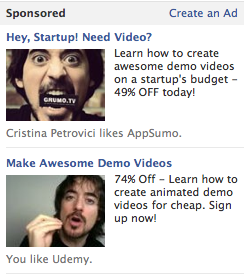 On top of that AppSumo also picked up my course and started promoting it to their list of half a million subscribers at a hefty discount. The result was that there were some months that between Udemy, AppSumo and my website I was making over $15k just selling a single course!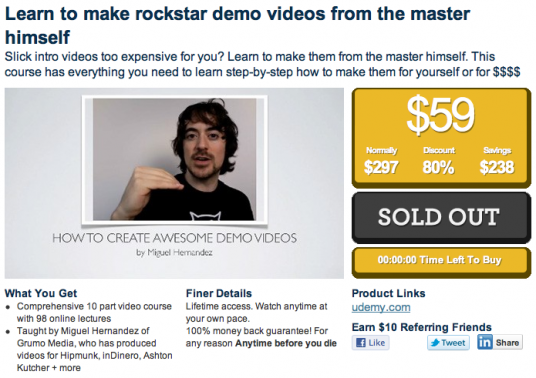 Wanting to ride this wave for as long as possible I decided to create more courses.
The next one was "How to create an awesome online course" which got temporarily rebranded on Udemy to "How to make money online teaching what you love".
So timing was crucial for my early success selling courses. Udemy was new, there were fewer instructors, less competition, and I just happened to have a finished course ready to upload to their platform.
Hard Work
After learning from Laura Roeder's success story on Mixergy it was a no brainer that anyone with any skill and a passion for teaching should create a course and sell it online.
The upside of creating a passive stream of income doing what I love was too much to let it pass.
But very soon I found out that creating a 10 hour course was no easy task.
It took a lot of preparation and many frustrating hours fighting with my computer and myself.
When you don't have a boss and work from home it's quite hard to find the motivation to sit down in front of your computer and do take after take talking to your webcam hoping that what you say makes any sense.
But after 2 months I was able to complete my course and used the lessons learned to create my second course on how to create courses.
I lost count of how many times I've told my friends and people on my network to create their own courses.
I even gave some of them free access to my teaching course so they could learn how to produce their own courses.
Everyone agreed it was a great idea but to this day not a single one of them has sat down and published a course.
Why? because it is damn hard work. Not even the prospect of making some passive income is enough motivation to go through the grueling work of creating an online course.
Luckily, out of the more than 4,000 people that have taken my teaching course many have actually created their own courses and some of them are doing extremely well these days.
You can find the stories of many of these students here: http://grumomedia.com/category/grumo-course/teaching-course/
One important thing to have in mind is that creating your course is only part of the work. You will also have to spend a lot of time learning how to promote your courses.
Here is a list of links to marketing tricks and resources that will help you market your courses. I implemented many of these tips to promote my courses as well:
Ultimate Guide to Becoming a Bestseller on Udemy
25 Ways to Enroll 25 Students
Roundup of Instructor Promo Resources
Udemy Best sellers marketing strategies
Combined Udemy course marketing strategies
Many YouTube marketing tricks
Passion
One of the main reasons why many of the students that take my teaching course don't create their own course is because they lack passion. It can be a lack of passion for teaching, for working hard, for making more money or a combination.
Without the passion creating a course can be much more difficult than it already is.
Passion for teaching was what gave me much of my motivation to sit in front of my webcam and overcome the fear of making a fool of myself.
Turns out that a lot of people are afraid of recording themselves even if it's just their voice.
For some reason I have no problem being a monkey in front of a camera.
I always record at home alone when my wife is at work. I feel safe, it's just me and my laptop in my cozy apartment. What's to fear? If I make a mistake I can easily edit it out and record again.
Here is a lecture from "How to create an awesome online course" where I talk about how to get into the right mental state to get started recording your own course:
So how do you overcome this fear? you need to have a genuine passion for teaching online.
Even if you manage to create a course, if you lack passion it will come across in your lectures and your students will get bored pretty quickly, you will get mediocre reviews and your sales will suffer.
Luck
Lady luck is always present in some form or another in all success stories. My case is no different and I've been very fortunate for several reasons.
I was lucky to be one of the first Udemy instructors before their platform became saturated with competition.
I was lucky that when I found about Udemy I already had a course ready to be published.
I was lucky to teach a subject that at the time was becoming popular.
I was lucky that AppSumo picked my course up (Thank you Noah Kagan)
I was lucky that I happened to be passionate about teaching online.
I was lucky that I had all the technical skills to create my first course without any help (now you can take my course and learn everything 🙂 )
I was lucky that my students liked my quirky teaching style and gave me many positive reviews.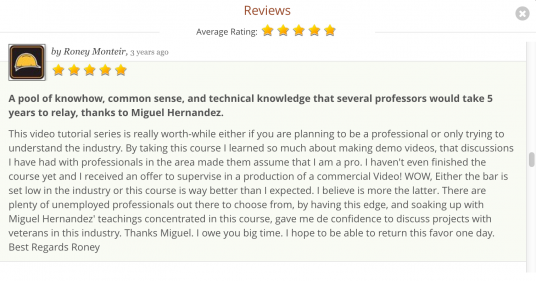 I plan to create more courses. I have a list on a spreadsheet with more than 50 ideas for courses.
I don't care if I am not an expert on many of the subjects I plan to cover.
I know that as long as I am passionate about what I teach I'll do all the effort required to learn whatever it takes to make my courses valuable and hopefully fun to watch.
There is just one thing left for me to say about reaching 10,000 students on Udemy.
Thank YOU to ALL of you!
Peace, Love, Cookies
Miguel
—
Do you have any questions about publishing courses online? just ask in the comment section below.
Get Our Top 10 Video Marketing Tips
Enter your email below to receive the exact strategies we've used to reach over 20,000,000 people with our videos without spending a single dollar in ads