One of the things I decided when I started Grumo Media was to never take my business and life too seriously.
The authentic me is silly and irreverent like many of our videos.
The other day I was working very hard and hadn't taken a break in over 10 hours..
Then I looked at my wall behind my computer and saw a cleverly placed post-it that says "Have fun! :)"
And here is what I did next..
It took an hour of my time to put the whole thing together.
Just in case I want didn't notice the girl wasn't there but if you squint a bit it looks like it she was there for realz right?
Anyway, I did have lots of fun making a fool of myself and the best thing is that my friends loved it when I posted it on my Facebook.
What are you going to do to break your routine and have fun?
Take a break and do something silly!
Get Our Top 10 Video Marketing Tips
Enter your email below to receive the exact strategies we've used to reach over 2,000,000 people with our videos without spending a single dollar in ads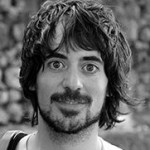 Learn How to Create an Awesome Demo Video The Grumo Way
Whether you are a do-it-yourself type of startup or a beginner wanting to learn how to produce great demo videos, our video training series will be perfect to help you produce outstanding explanatory videos.
Click Here to Learn more about this special offer.