It has been a very special year at Grumo.
The end of 2015 marks the 5 year anniversary since I started this little demo video production company in Vancouver, Canada.
It's been now 5 fantastic years during which hundreds of companies from all around the world have hired us and trusted us to explain what is that they do.
When I arrived here from Spain back in 1996 I never thought I'd be so lucky to have my own animation studio and get to work with so many interesting people and entrepreneurs.
I just want to say thank you for your support over all these years, and for 2016, I wish you all the love and success you can handle and more!
Miguel
Founder of Grumo
www.grumomedia.com
PS: This year's Xmas card features Miguel wearing his home team's soccer team shirt which happens to match Santa's colors very well-o. In case you cannot make out the logo it says Athletic de Bilbao.. olee!
Get Our Top 10 Video Marketing Tips
Enter your email below to receive the exact strategies we've used to reach over 2,000,000 people with our videos without spending a single dollar in ads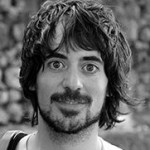 Learn How to Create an Awesome Demo Video The Grumo Way
Whether you are a do-it-yourself type of startup or a beginner wanting to learn how to produce great demo videos, our video training series will be perfect to help you produce outstanding explanatory videos.
Click Here to Learn more about this special offer.