I started creating online courses about 3 years ago. My first course was "How to create awesome demo videos the Grumo way" which now has been taken by close to 18,000 students around the world.
Since then I've published 5 other courses on animation, WordPress, course creation, and the last one on online dating.
Well, turns out until recently I only could host a single course using WordPress so all the other ones I ended up publishing on other platforms like Udemy.
Currently, all my courses are still available on Udemy but for the longest time I was looking for a simple WordPress plugin that would allow me to have a back up of all my courses under one of my own domains.
Recently a few options became available. I did some research and found 3 WordPress plugin combos that would allow me to both: host my courses and sell them using PayPal. (For hosting all the video lectures with domain playback restriction I use Wistia)
The 3 combos I tried were:
LearnDash + iThemes Exchange
Sensei + WooCommerce
Academy Theme + WooCommerce
I tested all of them and settled for Academy Theme + WooCommerce.
The main reason was that the Academy Theme had already a great design out of the box which meant I did not have to buy and redesign an existing template or hire a designer to come of with a design from scratch.
Also something nice about the Academy Theme is that it already came with a nice star rating and testimonial module.
However, if you have the time and budget to hire a good designer probably the best combo would be Sensei + WooCommerce since both plugins are developed by the same company (WooThemes) so they are more likely to integrate and evolve better together.
So here we go! After a couple weeks fiddling with Academy Theme + WooCommerce combo and hiring a virtual assistant (my sister in law) to upload all my courses – Grumo School was born!
Here is how pretty Grumo School's homepage looks: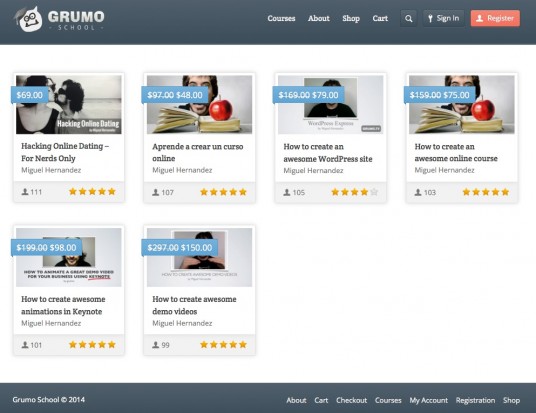 Discount offer valid for the next 48 hours only, Vamos!
To celebrate I'm running a super discounted limited offer good for the next 48 hours. All you have to do is enter the coupon GRUMO80OFF at checkout.
The coupon is good for these courses:
– How to Create an Awesome Demo Video (After Effects)
– How to Create an Awesome Demo Video (Keynote)
– How to Create an Online Course
– How to Create a WordPress Site
– Aprende a Crear un Curso Online (Spanish)
– Hacking Online Dating (for nerds only)
If you ever thought about taking any of my courses this is a great opportunity to do so.
Just go to: http://grumoschool.com/shop/
Select the courses you want and enter GRUMO80OFF at checkout.
That's all amigos!
Thanks for being awesome!
Gracias,
Miguel
Founder of Grumo Media
PS: I'm also planning to launch a new course teaching how to start and run your own online business from home (in your pyjamas).
Please let me know if this is something you'd be interested in. Thx.
PS2: If you have any questions about any of my courses or any suggestions for other subjects you'd like for me to cover please email at to miguel@grumomedia.com
Get Our Top 10 Video Marketing Tips
Enter your email below to receive the exact strategies we've used to reach over 20,000,000 people with our videos without spending a single dollar in ads