Just came back from an amazing trip to SxSw in Austin, TX.
A few people told me I couldn't miss this party, so when my friend Ali (@Ali_Digital) asked me to join and share a luxurious AirBnB room only a 10 min walk from all the action, I couldn't say no.
We arrived at 5pm on Sunday, March 13th and left at 7:45am Wednesday, March 16.
SxSw Interactive is the biggest, most entertaining party for geeks anyone could ever dream of.
Tens of thousands of geeks with their iPhones and brand new iPads attend hundreds of talks, keynotes and presentations with many of the leaders in the tech industry.
Amazing Networking
SxSw is an amazing opportunity for networking. For me pitching Grumo was super simple.
Every entrepreneur wants an awesome video to promote their startup and  there I was as their solution. Grumo exists to make great product demo videos.
I ran out of business cards the first day. I ordered my mini cards a week in advance from Zazzle.com. I only ordered 80 because I never thought I would get rid of them all!
Check out how cool mini cards are! Especially the nifty plastic dispenser that allows you to give out cards as if dispensing sticks of gum.. do you want a piece of gum? I mean Grumo awesomeness? here you go!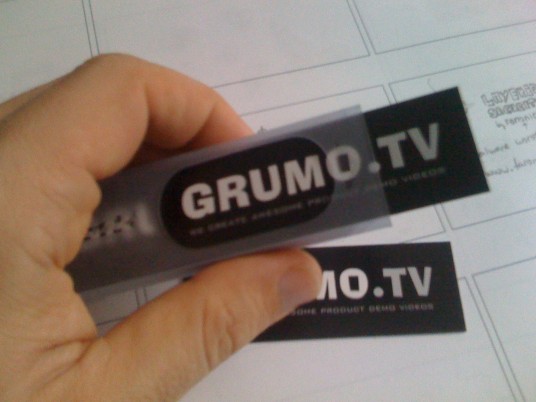 Open Bars and Friendly Geeks Everywhere
What really makes SxSw fun is not the gadgets, but  the people and the incredibly friendly vibe that one can feel walking through the streets of Austin.
SxSw is a party for like-minded people that want to meet each other and have a good time.
And there is no shortage of opportunities to have fun!
There are open bars everywhere, yes free drinks, are you kidding me?
Also free food too! Apparently there was a Twitter account advertising places where there was free food all day long.
For the FourSquare/Gowala fanatics there were thousands of prizes/coupons/badges to be won. In fact, no matter how small a venue was there were always people checked in.
I swear, we were inside the Hilton hotel lobby bar having a snack and there were 30 people checked in and I barely saw that many people there!
Great Music
Also the music. There were great bands everywhere and this was before the Music part of SxSw even started. Every other venue had live bands and they were all extremely good!
We even had live bands playing on the roof of the building we were staying at.
There were bigger names like the Foo Fighters, OutKast, and The Sounds, and hundreds more.
I really enjoyed the concert at The Seaholm Power Plant (literally used to be a power plant) where we managed to convince the girls at the door to let us in without our FourSquare badges…
Meeting Clients and Hollywood Stars
To top it all off I got to meet Alexis Ohanian, the very awesome man that has promoted Grumo from the beginning.
I met him at the Hipmunk party at the Hangar club. It was a big party co-hosted by Hipmunk, Blekko, and Chomp.
Alexis was outside giving away Hipmunk swag and talking to everyone promoting Hipmunk.
As soon as I said hi he picked me up in the air (high in the air at 6′-5″) and hugged me.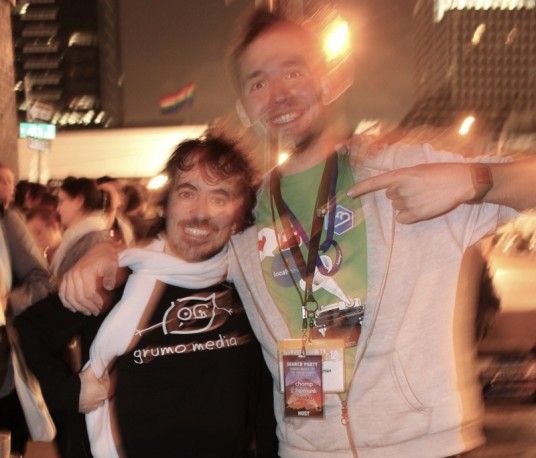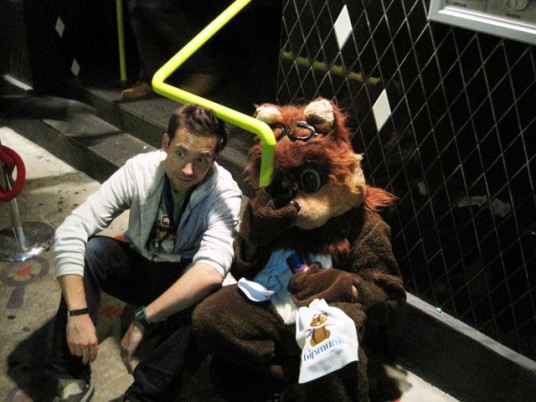 Then he pointed at the big screens where my Hipmunk video was playing. The video played throughout the entire night. It felt really good to see my work being displayed proudly for everyone to see.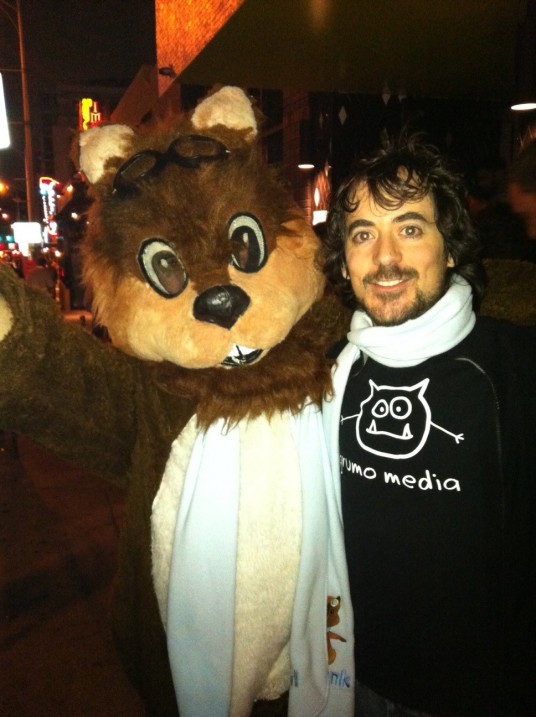 Alexis gave me his VIP pass and I went to the roof where I mingled with a bunch of great people including Ashton Kutcher and Demi Moore.
I went up to them and had a nice conversation about their DNA Campaign and how to best use animation to promote it. Demi was very cute, when I met her she said: "Hi, my name is Demi nice to meet you", and I said "Hi Demi, I think I have heard about you somewhere before..".
I should have said "Hello, my name is Inigo Montoya, you killed my father.. prepare to die!".. lol. (See original clip HERE)

On Monday I met Jessica Mah for coffee. We had a long chat about the video I am producing for her and about what a perfectionist she is. So far Jessica has surpassed any of my clients in the number of revisions requested, with 10 revisions in total!
Jessica was exhausted from partying a lot the previous night. Glad to know she is not just work-work and can have a good time too.
Tuesday was our last day at SxSw and we had to leave early in the morning so we decided to head back to the apartment early.
I really wanted to meet Andrew Warner in person. He called me while I as attending the SxSw Interactive Awards Ceremony and it was so loud I could not hear a thing he said.
I don't have Caller ID (I'm cheap and Rogers charges a fortune for every single feature) so I was not able to call him back. I assumed I wouldn't get to see him.
But serendipity works in mysterious ways because just as me and my friend were about to leave downtown, guess who I ran into… Andrew Warner and his wife Olivia! what? no way!
What are the chances that in a town with tens of thousands of visitors I run into the one guy I wanted to meet at that moment? I'm not sure, but it seemed pretty incredible.
My friend Ali could not believe it. Just 2 minutes before running into Andrew I was complaining to him about how it sucked I did not get a chance to meet Andrew.. and then voila! there he was!
As soon as Andrew saw me he pulled an Ohanian on me, he picked me up in the air like a sack of potatoes and started to scream, Olivia Olivia, this is Miguel from Grumo!
I have never seen Andrew so wired, I mean I think he was a little drunk but holy cow! he was so full of energy! I think interviewing Gary V may have had an influence on him, crazy!
We joined him, his wife, another guy, and a crazy dude that works on Facebook, Mr. Paul Tarjan, no less than the guy responsible for Facebook's Like Button!
Andrew invited us all to get some super juicy Korean tacos and then we headed to another VIP party his wife Olivia managed to get us into. That night was another blast meeting all kinds of interesting people and listening to some great bands from Seattle.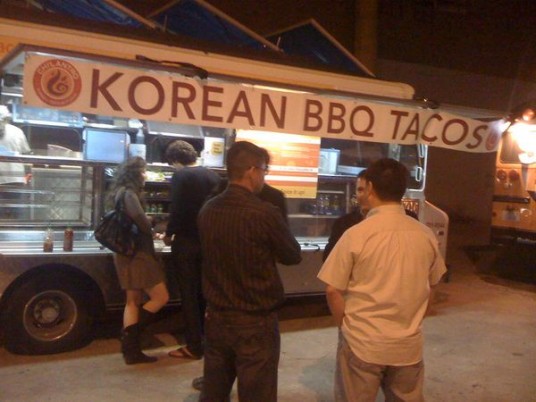 Thanks Andrew, Olivia, and Paul for providing us with such great entertainment on our last night at SxSw, and Andrew keep up the energy! (I told him he takes his Mixergy interviews too seriously, and he knows it hehe)
In conclusion, SxSw was a blast, although an expensive one (just the interactive pass was $750). It was totally worthwhile and I highly recommend it to anyone that likes geek stuff, startups, music, or film.. which is the whole world!
I leave you with a picture of the Smart Cars they have all over Austin downtown for rent.
Similar to Zipcar, which I signed up for last month precisely just to try out the Smart Car only to find out they no longer rent any in Vancouver!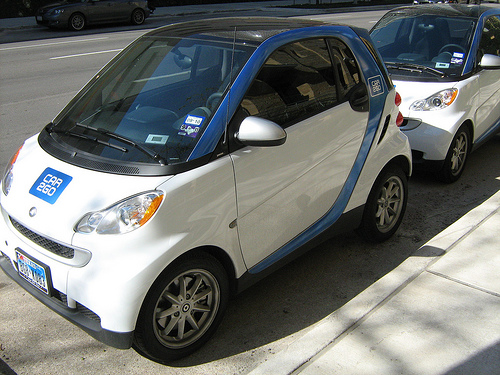 UPDATE: Holy Kaw! just a month after this post Vancouver became the only other city in North America to introduce Car2Go!. Did they hear me complaining in this post?
I've already driven their cute Smart cars a few times a love the fact you can park them anywhere including residential only parking spots.. ZipCar has some serious competition, but wait.. GetAround is coming "around" the corner and will allow anyone to rent their vehicle! can't wait to rent my first Ferrari 😉
Get Our Top 10 Video Marketing Tips
Enter your email below to receive the exact strategies we've used to reach over 20,000,000 people with our videos without spending a single dollar in ads