The "How to create awesome demo videos" course was created with the intention to provide an alternative for cash strapped startups to produce their own demo videos.
As a producer It hurt to turn down many hard working entrepreneurs because they just could not afford an studio like mine to produce their demo video.
So I sat down and spent a couple of months putting together this course and explaining in great detail every single step we follow at Grumo Media to create explanatory videos for companies like Microsoft, Walmart, Hipmunk, inDinero, PadMapper, Olo.com, Ashton Kutcher, Buy4.com, and many more.
The result is over 10 hours of HD footage divided into 81 lectures where I pour my soul doing my best at teaching this craft I am so passionate about.
Today, more than a thousand people have taken my course and many of them have shared their work with me.
Here are some testimonials from happy students with links to the videos they created after taking my course:
"The Grumo course gave me the behind the scenes to the production of the video from start to finish. Which demystified all the misconceptions I had, of a huge budget- incredibly talented marketing geniuses needed to create a video such the once I've seen. So I got all the CONFIDENCE I needed to tackle the task, and on top of that all the TOOLS and METHODS necessary to do so with a winning formula"
Fabian Pallares - Collective Change (watch video)
"I really enjoyed the course and am very proud of the result! So Miguel you rock! Thanks"
Jonathan Surinx - Olumpo (watch video)
"The course was even more awesome than expected. While I thought the main thing I would get out of it was the technical stuff (and I did) what I REALLY got out of it was how to write a great script and storyboard, and how to add the LOVE. And the best part was that the course was so entertaining! I'm not sure whether you're a better producer, teacher or comedian. Either way, keep up the great work!"
Justin McLeod - Hinge (watch video)
"Without the Grumo course, I would never have made a demo video. It's as simple as that. Grumo gave me a place to start, and broke a complex process into smaller parts that built my confidence up to the point where I was thinking: "ok, now I HAVE to do this!"
Liam O'Dea - SellDoorsFaster.com (watch video)
"I'd recommend your course to anyone! it's good even for back-end developers zero experience design nor animation."
Pablo Albrecht - Belongins (watch video)
"I wouldn't even have TRIED this without your awesome course. You really inspired me and also made me feel like it was "possible".
Todd Rimes - Handpik (watch video)
"The most useful help I received from the Grumo course was:
- How to design a good script (statement of problem, solution, explanation... in the right proportions) with the 7 SUCCESS rules in mind. Really good stuff, and simple to apply. I was most impressed by the need to generate warm, fuzzy feelings and make people laugh. This is key.
- The After Effects tutorial was invaluable, I had no clue how to do this kind of animation before, that section of the course had many small tips to get started right away, rather than going through thick books about the software. The high-def videos for the rigging and animation were a good idea because viewed fullscreen, it looks almost like a live screen of the application."
Gabriel Ross - GR Sites (watch video)
"Miguel's course gave me very concrete technical advice on how to write the script, how to record the voiceover, how to look for talent and how to edit. Lastly, it gave me the confidence to think that I could write a script and create this project."
Seth Price - TurlyTag (watch video)
You can see the entire list of sample student demo videos and full interviews with them at http://grumomedia.com/category/grumo-course/student-demo-videos/
Peace, love, and cookies
Miguel Hernandez
Founder of Grumo Media
www.grumomedia.com 
Get Our Top 10 Video Marketing Tips
Enter your email below to receive the exact strategies we've used to reach over 2,000,000 people with our videos without spending a single dollar in ads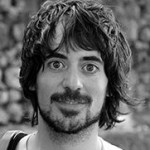 Learn How to Create an Awesome Demo Video The Grumo Way
Whether you are a do-it-yourself type of startup or a beginner wanting to learn how to produce great demo videos, our video training series will be perfect to help you produce outstanding explanatory videos.
Click Here to Learn more about this special offer.