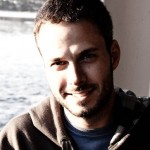 Ryan work is breathtaking to say the least. We were very lucky at Grumo to be able to hire his services just before he got busy again after his return to Vancouver this winter. Ryan happened to be the 40h applicant on our first round of hiring and the wait was worth.
As soon as we took a look at his 2010 reel we knew we had to get him involved on a project.
Ryan is one of the fastest animators we have hired and required almost no input after our first creative meeting, a total pro.
Just take a look at his work on typographics and be blown away at the care and perfection of his work [HERE].
Ryan's bio from his personal website:
Born in Edmonton, Canada, Ryan Uhrich has had a passion for making films from a very young age. Graduating with distinction from both Design Foundations at Grant MacEwan College of Edmonton and the Digital Design Program at Vancouver Film School. Ryan's work has received global recognition and has won several awards including the coveted Adobe Design Achievement Award for his student project Duelity. Following school, Ryan was hired at THANK YOU motion graphics in Copenhagen, Denmark. From there he moved on to freelance in Sydney, Australia. Today he has set up to continue freelancing in Vancouver, Canada.
Ryan Uhrich's 2010 reel:
Ryan Uhrich Montage 2010 from Ryan Uhrich on Vimeo.
Get Our Top 10 Video Marketing Tips
Enter your email below to receive the exact strategies we've used to reach over 20,000,000 people with our videos without spending a single dollar in ads