Jeanette Seah was the first motion designer to ever be hired by Grumo Media.
Jeanette is one of the very few candidates with a reel that excelled in both illustration and motion skills.
Jeanette has a deep passion for story telling which is reflected in many of her works.
Grumo tasked her with a very challenging project where she was required to do her own illustration work and animate an entire 2min plus animation is only 2 weeks. Needless to say she worked very hard and delivered a great grumo within schedule and budget.
Here is Jeanette's 2010 reel:
You can check more of Jeanette's work at http://cargocollective.com/Jeanette.
Are you Grumo worthy?
Take our test to find out if you have what it takes to belong to our carefully curated community of world-class creatives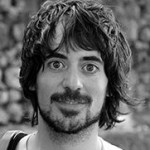 Learn How to Create an Awesome Demo Video The Grumo Way
Whether you are a do-it-yourself type of startup or a beginner wanting to learn how to produce great demo videos, our video training series will be perfect to help you produce outstanding explanatory videos.
Click Here to Learn more about this special offer.