Once your master piece demo video is completed you'll face a myriad of encoding options to choose from.
Our Grumo advice is to always keep a high-quality backup and render your final version at the maximum quality possible using a codec like DVCPRO-HD, Apple Pro-Res, or H.264 at a high bit rate of 5000kbps or more.
However, your high-quality final video will be a huge file typically several gibabytes in size and way too big to upload to your website, YouTube, Vimeo or your video hosting platform of choice.
So it's time to compress this baby to a more manageable size. For a 90 sec demo video keeping it under 30MB is a good rule of thumb and will speed up upload times a lot.
We recommend using a free encoder like Quicktime (version 7 works the best) or MPEG StreamClip which can be downloaded for both Mac and Windows here -> http://squared5.com
Once you have your encoding software ready, here are our recommended video encoding settings for web.
Video: 1280×720 (720p HD) at 2000kbps using the awesome H.264 codec.
Audio: AAC Stereo 44,100KHz at 128kbps
Here is how the Quicktime settings will look like: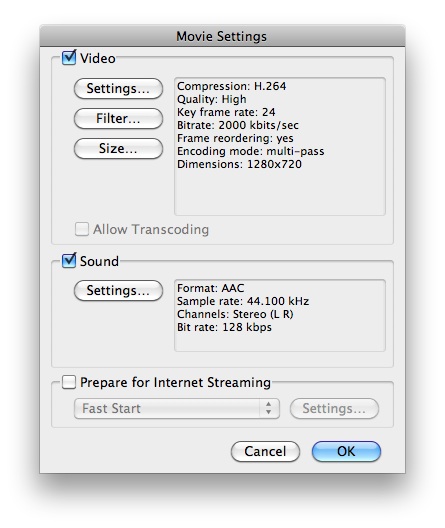 There you go amigos! happy encoding for the interwebs!
Get Our Top 10 Video Marketing Tips
Enter your email below to receive the exact strategies we've used to reach over 20,000,000 people with our videos without spending a single dollar in ads