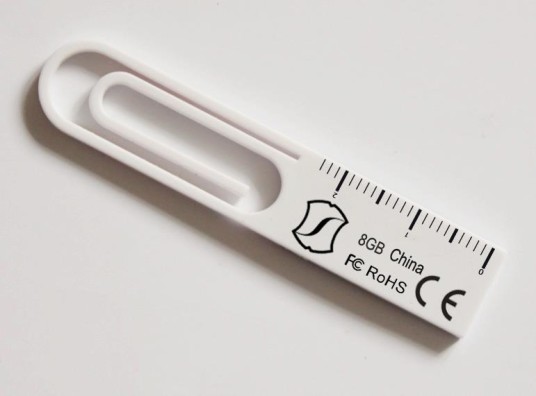 Last year Grumo Media produced a couple of demo videos promoting Walmart's Get On the Shelf contest.

Derrick Frohne is the creator of the eClip and Walmart's contest finalist.
Derrick approached us to tell us a bit about this unique product and his journey to bring it to life.
What is the eClip?
The original eClip by Frohne is the world's first paperclip USB with a metric ruler.
eClip functions like a regular paperclip to organize your receipts, bills, money, or other paper items. eClip can be situated in a pocket, necklace, or in a binder.
eClip specs:
Size: 61mm x 12.5mm x 2.1mm
Weight: 1.2g
Capacity: 8GB
Data Retention: 10 years
Password lock-encryption compatibility: PC
1) How did you find out about the Walmart contest?
I was sent an email from Walmart, which said they look forward to my submission for the Get on the shelf contest.
2) What did you do to get exposure and people votes?
For exposure, Mecca and I utilized social media via facebook, LinkedIn, Google+, and word of mouth. We have many supporters worldwide to help our family business expand.
3) How did you come up with the idea to create eClip?
I thought about what people need everyday in their life so I incorporated a device which is multifunctional. Many people use paper clips, USB flash drives, and rulers; therefore there was a need to amalgamate these functions into a single device.
4) How did you manage to get it into production?
I contracted a factory to produce my designs for my company.
5) Where is it assembled? China
6) What was the most difficult part in the journey to bringing eClip to life?
At this moment, the most difficult part is marketing for me. After asking my fiancée & secretary, Mecca, to spread the word of our business, I found she was better with that than I am so you will see more of her in the future as our family business expands.
7) Where can we buy it?
Frohne eClip is available in the following distribution channels: Frohneusa.com, Amazon, Sears, Barnes & Noble, UnbeatableSale, Shop.com, and Ebay.
For all my neighbors who live in Austin-Texas, you can call and meet me if you want an autograph on my awards with the purchase. Walmart is the next market we are trying to conquer. Hopefully eClip will be available in Walmart at the end of the Get on the shelf contest. I am a finalist in the contest and I am confident we will succeed.
We will keep saying our prayers so Frohne has our products on Walmart's shelves very soon. You can also help by clicking the link on Walmart's website and vote for the eClip here: https://getontheshelf.walmart.com/product/1be4/Frohne-eClip-USB-flash-d
8) Where can we find out more about you and your company?
You can visit the Frohne website www.frohneusa.com, facebook.com/frohneusa, or the A' Design Award website.
We also have the eClip in many tradeshows around the world and in a permanent display in Mood Museum in Como-Italy, so people can see a lot of information about myself and the Frohne family business there.
9) Any more cool products coming up?
At the moment, Frohne has Florida Key USB flash drive and MicroSDHC+1 available for purchase.
---
Related posts:
Grumo Video: Get on the Shelf Walmart Contest
Grumo Video: Classrooms by Walmart – Students
Grumo Video: Classrooms by Walmart – Teachers
Get Our Top 10 Video Marketing Tips
Enter your email below to receive the exact strategies we've used to reach over 20,000,000 people with our videos without spending a single dollar in ads