Grumo student Frédéric Bellier shares with us his first demo video for Slides Academy which provides training for conference speakers.
If you speak French this video will make a lot more sense. But if you don't you can still appreciate Frédéric's nice illustrations and animation:
The video was animated using Keynote using guidance from our Keynote animation course.
Here is a bit of background on the creation of this demo video:
How long it took you to produce this demo video?
Around 120 hours ! It was long because of a lot of first times: first script, first storyboard, first use of keynote, first voice over recording…

How did you record the voice over?
A friend of mine lent me his Blue Snowball microphone. The quality is good enough to reduce many background noises but I used the Miguel Hernandez's blanket trick to avoid bad surprises.

What was the hardest part?
The recording of the voice over was horrible. Under the blanket it was 50 degrees! It was so difficult to find a good tone a voice: not too commercial, not too fast, not too… My brother who is a radio journalist gave me good advices to improve the first attempts, in particular the choice to have a sober voice to contrast with the funny drawings. At the end, the voice is clear but still not enough dynamic to my taste… Next time!

What was the simplest part?
The editing: I used Corel Studio Pro X6 which is cheap and very simple to use to my mind.

How did you create the illustrations?
With a 19' tablet monitor YiYnova (a cheaper alternative to Wacom Tablet Monitors) and Photoshop. It was very comfortable to create the illustrations because I made rough but precise drawings in the storyboard (in attached files).

Where did you find the music?
I bought three different soundtracks on Pond5.

How did the Grumo course help you?
The main helps were the structures given by the script and the storyboard and all the multiple tricks with Keynote to avoid to use After Effects: thanks !

All the best
Frédéric Bellier
Frédéric was so nice as to sharing the storyboard he created for this video:
Thank you Frédéric for taking our demo video course and sharing your masterpiece with us!
If you are interested in learning how to create a cool demo video using only Keynote you can check the same course Frédéric took here: http://grumomedia.com/how-to-create-an-awesome-promo-video-in-keynote/
Get Our Top 10 Video Marketing Tips
Enter your email below to receive the exact strategies we've used to reach over 2,000,000 people with our videos without spending a single dollar in ads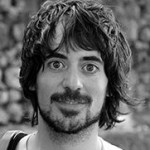 Learn How to Create an Awesome Demo Video The Grumo Way
Whether you are a do-it-yourself type of startup or a beginner wanting to learn how to produce great demo videos, our video training series will be perfect to help you produce outstanding explanatory videos.
Click Here to Learn more about this special offer.