Trey Hakanson took the Grumo animation course and produced this awesome explainer for his startup Hatchli.io.
Trey shares with us how was his experience producing his first demo video ever:
How long did it take to create this course?

I actually managed to put the entire video together in about a week and a half; my team had an update for our iPhone App (https://hatchli.io/) ready to go and we needed the video made fast. We also had almost no budget; so I picked up the Udemy course and went to work non-stop.

How did you record the audio?

We went with the Grumo patented blanket over the head method. Worked great! We ended up borrowing a mic from a friend and recording from a laptop.

What was the hardest part?

The hardest part of the video was probably the voiceover. It was a lot harder than I thought to get the cadence/inflection right without sounding flat or carsalesman-like; I definitely have a newfound respect for voice actors!

What was the simplest part?

The simplest part for me was probably the getting the script together. I had a pretty good idea of what I wanted to do, and the points in the course turned it into a pretty straightforward process.

How did you do the illustrations?

I made all the illustrations on adobe illustrator; I'm not a big tablet guy, so I just stuck to using my mouse. I've been around illustrator for a little while so this wasn't too bad either.

Where did you get the music?

We grabbed the music off of a site called audio jungle (http://audiojungle.net/) for about $20. They had a nice selection, and a pretty reasonable price point for a commercial license.

How did the Grumo course help you?

The Grumo course was invaluable for the production of this video; the scripting and the animation tutorials in particular were great. I was really surprised at how simple getting a solid script together was after following the steps. I expected it to be much more difficult for me; I'm not much of a writer. The animating was great to, as I had never worked with after effects before but was able to pick it up pretty quick. Couldn't have done it without you guys!

How did you find about Grumo Media's course?

I found out about Grumo from Udemy actually; I've been a huge fan of their tutorials for a while now and though it would be a good place to look for a video making tutorial. I had seen the Hipmunk video before too, so after making that connection I was sold; I'm big fan of that one!

What other resources helped you to create the course?

Outside of the video, I found the CreativeCow forums (https://forums.creativecow.net/) to be very helpful. After effects is a pretty beefy software, so naturally I had some additional questions here or there and this proved to be a great resource for some additional knowledge. I also had taken Udemy courses on using illustrator beforehand, which likely helped my cause too. But with regards to scripting, sound editing, logistics, etc. the Grumo course was all I needed!
If you want to learn how to create an awesome demo video like Trey you can join our course at http://grumoschool.com/course/how-to-create-awesome-demo-videos/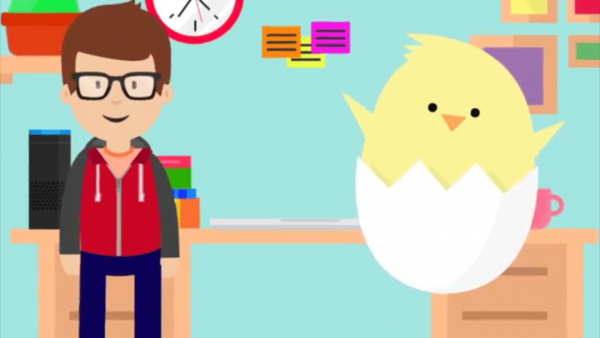 ---
You can check out many more Grumo student animated demo videos here: http://grumomedia.com/category/grumo-course/student-demo-videos/
Get Our Top 10 Video Marketing Tips
Enter your email below to receive the exact strategies we've used to reach over 20,000,000 people with our videos without spending a single dollar in ads