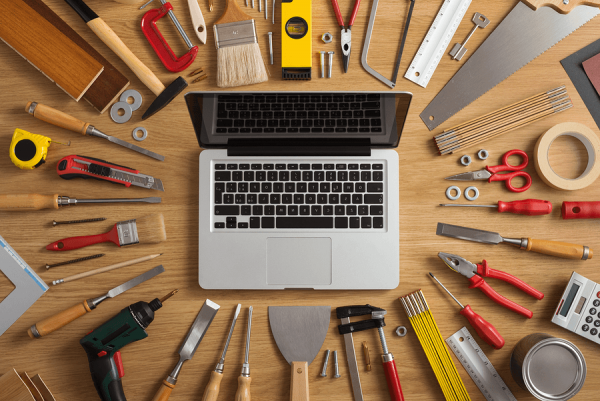 Form follows function. This somewhat clichéd 20th century architectural principle is also how successful online instructors build their empires. The framework and teaching techniques that you employ in your online courses need to address what you want your clients to learn and how they are going to learn it.
Course design matters and studies show that effective design and planning will keep your students engaged and coming back for more.
In 2016, this means you need to utilise a variety of learning methods! The presentation of your content is just as important as the content itself, and no modern student will be satisfied by dry PowerPoint presentations and weird DIY green-screen imagery.
And I know it can be intimidating. How can you create a well-designed course that stands out in a saturated market?   Which tools should you pay for to ensure an innovative and engaging course? And how can you do it without breaking your budget and spending years learning new skills?
I've written over 75 lectures on how to do just that and today I'll be sharing the CliffNotes version with you for free!
Video Killed the Radio Star
Online learning isn't high school, and no one is going to give you an "A" for effort. Your media and videos need to be sharp, informative and above all else, likeable!
A lacklustre, disappointing video can be worse than no video at all. There is no excuse for long monotonous lectures filmed in your Mom's basement when you can be recording quick, fun educational videos for your online audience.
If you don't have the expertise or budget of Pixar or Disney studios, don't despair – help is on the way in the form of Keynote.
This incredibly user-friendly application is bursting with animation tools. You can illustrate, animate, record voiceovers and add music to catchy videos before publishing them across a variety of online outlets. Best part? Keynote is free for some and only $20.00 for others!
If you're intimidated by the process and don't know the difference between a storyboard and a snowboard, consider enrolling in a course in How to create an awesome demo video in keynote.
Your future students and your passive income bank balance will thank you!
Go with the flow
Working with an online audience of visual learners can be difficult when you need to simultaneously explain and demonstrate a complicated concept.
Screenflow allows you to record what's on your screen while capturing video and audio from your camera at the same. It's easy to edit and export and you can engage students with simple step by step instructions and the sound of your soothing, expert voice.
Think of it as the modern version of your algebra professor writing out equations on the classroom projector.
Fame
So great, you've created an arsenal of informative lectures and exciting explainer demo videos. Now what?
Run, don't walk, to YouTube.
YouTube is an essential part of any online instructors' toolkit. Potential students can get a feel for your teaching style and personality and you can shamelessly promote your products. If you're one of the few souls on earth that is still skeptical of YouTube's power, just google "YouTube stars" and see how many figures a kid with a webcam can earn.
Don't forget to experiment with Vimeo as well. Vimeo may be YouTube's little sister, but she also has some great options for clickable call-to actions and gives you more control on how you display and share your media.
Taking care of business
So you've got the tools to design and create but you're not sure where to get started? It's time to get organised and subscribe to time management and organisation apps.
For writing syllabus, subcontracting tasks and to keep yourself from going crazy, use Asana. Although it was designed for virtual team management, it can also be an important tool for the overachieving solopreneur. Plus, after your course goes viral and you've created an online community of thousands, you're going to need to outsource some tasks. You might as well get organised from the beginning.
Inspiration is everywhere, but it can be overwhelming to keep track of articles, tweets, resources, etc. Save content directly from your browser or apps into Pocket and access it from any device at any time. It sure beats trying to organise your bookmarks folders and emailing yourself interesting links at 2am.
Maybe you're already organised but you're getting distracted by your co-workers cousins ex-fiancés rants on Facebook? Use Anti-social to straight up block access to social networks while you're working and stay on task.
Finally, stop procrastinating and reading articles about course design and actually get to work writing your syllabus and publish your damned course already! Focus Booster uses the pomodoro technique to form better work habits and increase productivity by working in 25 minutes bursts of hyper concentration.
Get Our Top 10 Video Marketing Tips
Enter your email below to receive the exact strategies we've used to reach over 20,000,000 people with our videos without spending a single dollar in ads