Grumo hits a nice traffic milestone just breaking 100,000 page views in the last 30 days!
It has taken almost a year to reach these many views and to be fair about 10K of them were generated by an AppSumo deal promoting my Grumo Course.
Here is a screenshot from with the evidence: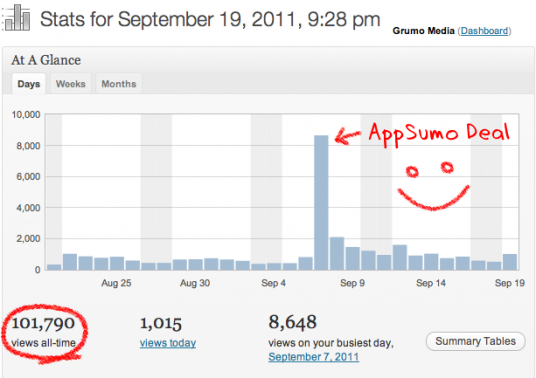 Over the year there has been a gradual increase in traffic with a few peaks of high traffic corresponding to some articles being picked by Hacker News or StumbleUpon.
Well, it makes me happy to see so many people hanging around Grumo and learning about the exciting world of explainer videos.
Thanks to you dear grumo visitors for spending some of your valuable time with us!
---
Related:
Grumo Facebook page reaches 100 fans
How to create an Awesome demo video
How much a typical promo video costs?
Running an animation studio – Behind the scenes of Grumo Media
Get Our Top 10 Video Marketing Tips
Enter your email below to receive the exact strategies we've used to reach over 20,000,000 people with our videos without spending a single dollar in ads